Meat Loaf with Roasted Vegetables
This tender meat loaf, made with a blend of ground beef and ground chicken, will please kids of all ages. The oven-roasted potatoes, carrots, and onion cook right alongside so that everything is ready at the same time and cleanup is quick and easy.

Ingredients
4 Servings
For the Meat Loaf:
For the Roasted Vegetables:

340
Calories per serving

2.0 g
Sat. Fat per serving

373 mg
Sodium per serving
View Full Nutrition Info
collapse
Quick Tips

Tip: Serving size 1 slice meat loaf and 1 heaping cup vegetables.
Directions
Tip: Click on step to mark as complete.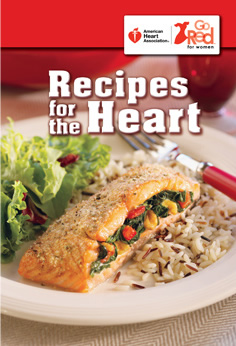 Like the Recipe? It and Many Others are Available in the Cookbook Below:
Go Red for Women Recipes for the Heart
Calories
340
Total Fat
6.0 g
Saturated Fat
2.0 g
Trans Fat
0.0 g
Polyunsaturated Fat
1.0 g
Monounsaturated Fat
2.0 g
Cholesterol
114 mg
Sodium
373 mg
Total Carbohydrate
40 g
Dietary Fiber
6 g
Sugars
12 g
Protein
31 g
Dietary Exchanges
3 lean meat, 2 starch, 2 vegetable
Please sign in to add recipes to your Recipe Box.
Log In