Three-Bean Chili - Delicious Decisions
As more and more canned foods without added salt become available, such as the red kidney beans, pinto beans, and chickpeas (garbanzo beans) used here, it is getting easy to put healthy chili on the table in very little time, with very little effort, and with almost no cleanup involved.
Ingredients
4 Servings
collapse
Quick Tips

Tip: Serving size 1 3/4 cups
Directions
Tip: Click on step to mark as complete.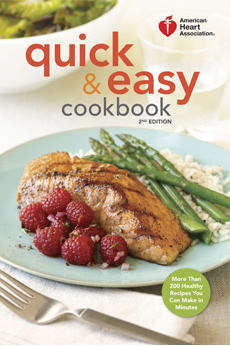 Like the Recipe? It and Many Others are Available in the Cookbook Below:
American Heart Association Quick & Easy Cookbook, 2nd Edition
Calories
411
Total Fat
2.0 g
Saturated Fat
0.0 g
Trans Fat
0.0 g
Polyunsaturated Fat
0.5 g
Monounsaturated Fat
0.0 g
Cholesterol
1 mg
Sodium
264 mg
Total Carbohydrate
71 g
Dietary Fiber
16 g
Sugars
15 g
Protein
23 g
Dietary Exchanges
4 starch, 2 vegetable, 1 1/2 very lean meat
Please sign in to add recipes to your Recipe Box.
Log In