Couscous-Stuffed Portobello Mushroom Caps with Mozzarella
With the plump, meatiness that portabella mushrooms provide, you won't miss the meat in this vegetarian dish.
Ingredients
4 Servings

2
Serving size

261
Calories per serving

0.5 g
Sat. Fat per serving

311 mg
Sodium per serving
View Full Nutrition Info
collapse
Quick Tips

Cooking Tip: When in the grocery store choosing the portobello mushrooms, pick caps that are deep enough to hold a stuffing well.

Keep it Healthy: Instead of discarding the mushroom stems, you can always freeze them to use for a homemade chicken stock or vegetable stock.

Tip: This couscous salad can also be made on its own as a side dish for entrees.
Directions
Tip: Click on step to mark as complete.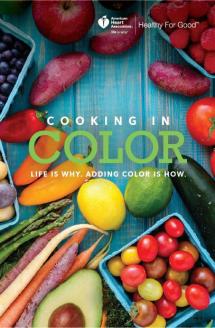 Like the Recipe? It and Many Others are Available in the Cookbook Below:
Purchase Cooking in Color
Copyright © 2018 American Heart Association, Healthy For GoodTM, heart.org/healthyforgood Every purchase helps fund the work of the AHA/ASA.
Calories
261
Total Fat
6.7 g
Saturated Fat
0.5 g
Trans Fat
0.0 g
Polyunsaturated Fat
1.8 g
Monounsaturated Fat
3.4 g
Cholesterol
3.8 mg
Sodium
311 mg
Potassium
0 mg
Total Carbohydrate
37.3 g
Dietary Fiber
5.5 g
Sugars
5.1 g
Added Sugars
0 g
Protein
14.0 g
Calcium
0 mg
Dietary Exchanges
1/2 fat, 1 lean meat, 2 starch, 2 vegetable
Please sign in to add recipes to your Recipe Box.
Log In