Ariel Hernandez, Congenital Heart Defect Survivor. Learn more about Ariel's story.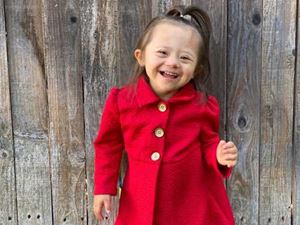 *Who do you go red for and why?
I go red for my-self!! I have to stay heart heathy to help my parents and my twin sister change the world. We need to change the story and represent a new heart healthy world that shows not only women's health in a new light but also illuminates the Down syndrome community and give representation where there was none previously.

How do you prioritize self-care?
Self-care is tricky in today's world. I don't think there is one "trick" or right answer. I think self-care is waking up and making the best choice for you in that moment and continuing to try your best to do "the next right thing". That's what my favorite princess from Frozen, Anna says!

What do you want women to know about heart disease and stroke?
I want women to know heart problems can happen at any age. Sometimes it's environment, sometimes it's genetic. I think it's important to not put off exams until later just because you are scared. It's best to find those who support you and address any problems right away! If you need support come find one if Go Red for Women Ambassadors and we can get you the support you need!
*responses submitted by Ariel's mom, Kristal Hernandez
---