Managing Aortic Stenosis Symptoms
Managing Mild Aortic Stenosis
You may have been surprised when your doctor said you have mild aortic stenosis (AS), a defect that can narrow the aortic valve opening and restrict blood flow out of the heart to the aorta. However, in people with mild AS, symptoms are usually minor and may be dismissed as normal signs of aging.
Although you might not have noticed any symptoms, your doctor may have detected a murmur when listening to your heart during a routine exam. Or perhaps you feel tired or your ankles swell sometimes. These can be signs of early AS. If AS is suspected, an echocardiogram can be done to confirm the diagnosis. An echocardiogram (echo) is a test that uses high frequency sound waves (ultrasound) to create pictures of your heart including the heart valves.

People with mild AS may not feel symptoms until their condition worsens. When blood flow out of the heart is decreased, you may experience shortness of breath or chest pain — typical symptoms of the disease.

Although a damaged heart valve does not improve on its own, you can take steps to manage your symptoms. If your AS becomes severe and you have symptoms, then an aortic valve replacement may be needed.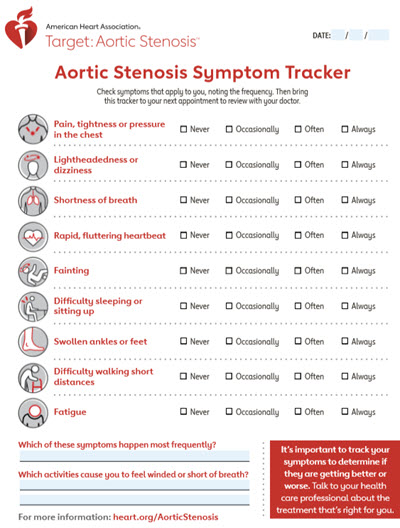 Download the Aortic Stenosis Symptom Tracker (PDF) | Spanish (PDF)
Control risk factors
Managing cardiovascular diseases and risks can help you keep AS symptoms at bay. Talk to your doctor about medications and lifestyle recommendations if you have any of these conditions:
Eating healthy, exercising regularly and not smoking will improve your heart health and well-being. Various medications may also lower blood pressure and cholesterol.

There's a link between infected gums (gingivitis) and inflammation of the heart (endocarditis). Having aortic stenosis can increase this risk, so daily dental care and checkups are important.
Get regular checkups
See your primary care doctor or your cardiologist regularly to monitor your heart. Routine echocardiograms can show if the condition has advanced.

If you experience new or worsening symptoms before the checkup, call your doctor immediately. Also, talk to your doctor if you're considering pregnancy. If you have aortic stenosis and become pregnant, close medical supervision is required before, during and after pregnancy.
Managing Moderate Aortic Stenosis
People with moderate aortic stenosis may not notice physical problems. But it's a life-threatening condition that can progress rapidly and cause heart failure.
Control risk factors
Although you cannot reverse damage to a heart valve, you can slow AS by managing other heart conditions and risks. For instance, your doctor can prescribe medications to lower blood pressure and cholesterol, regulate abnormal heart rhythms or relieve fluid buildup.
Monitor your symptoms
If you've been diagnosed with moderate AS, you may have no symptoms until the damage to your heart valve is severe. It's important to be aware of any signs or symptoms that could mean your heart valve may be deteriorating.

Call your doctor about new or worsening symptoms, including:
Chest pain or tightness
Rapid fluttering heartbeat
Shortness of breath
Dizziness or faintness
Increased exhaustion after activity
Swollen ankles and feet
Difficulty sleeping
See your doctor regularly
Follow your doctor's recommendations about how often you need follow-up visits and tests to monitor your aortic valve. If your AS progresses, talk to a cardiologist about options and if you are a suitable candidate for heart valve replacement.
Treatment for Severe Aortic Stenosis
Severe AS, sometimes referred to as a failing heart valve, is a life-threatening condition but can be treated by replacing the heart valve.

The treatment for severe AS is aortic valve replacement. This is accomplished either through the open-heart surgery SAVR (surgical aortic valve replacement) or the less invasive procedure called TAVI or TAVR (transcatheter aortic valve implantation or transcatheter aortic valve replacement). Although SAVR has traditionally been the standard for treating severe AS, TAVI is now available to most patients.

After aortic valve replacement, you can expect your symptoms to resolve and to have an improved quality of life.
Transcatheter Aortic Valve Implantation
During a TAVI procedure, an interventional cardiologist inserts a replacement valve through an artery in the upper leg. This is called the femoral approach and is the most common. TAVI can also be performed through an artery in the upper chest (subclavian approach) or through a small incision in the chest (apical or transaortic approach). The new valve is guided through the artery into the heart to the position of the diseased aortic valve. Once in place, a balloon is expanded, and the new valve becomes implanted.

TAVI may be performed with sedation or general anesthesia. Patients are often discharged from the hospital within a few days. Time in the hospital following TAVI is dependent on many factors, including age and the presence of other medical conditions.
Surgical Aortic Valve Replacement
After general anesthesia is administered, a cardiothoracic surgeon makes an incision in the chest. Once the patient is placed on the heart-lung machine, the heart is opened and the diseased valve is removed. A new valve is then sewn into place. Following SAVR, patients are discharged in about one week from the hospital.
Deciding Between TAVI and SAVR
Once it has been determined that your aortic valve needs to be replaced, your doctor will discuss treatment options to help you decide which valve replacement procedure is best for you. This discussion will include the risks and benefits of each procedure.

Whichever procedure you choose, lifetime follow-up with a cardiologist is necessary to ensure that your replacement valve continues to function well over time.
---