Common Herbs and Spices: How to Use Them Deliciously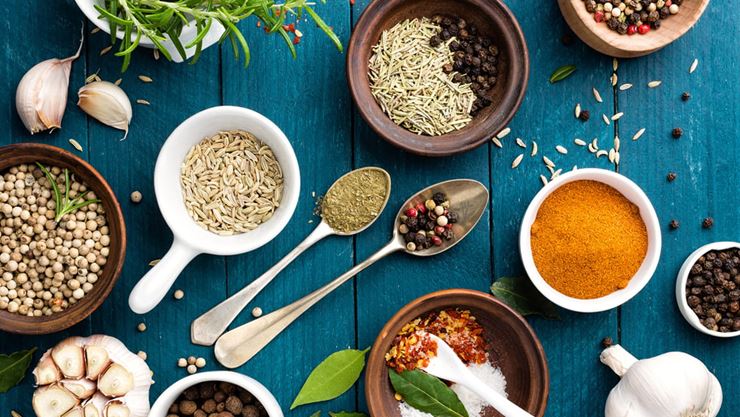 Your spice drawer is a treasure chest of zippy, zesty, sweet, savory and spicy flavors; and one of the best qualities of herbs and spices is the variety of flavors you can add to foods without adding salt.
Here's a how-to guide on the flavor profiles of common spices and how to season with them.
Basil
Tastes somewhat sweet, earthy.
Delicious Pairings: Any Italian food like meatless lasagna or pasta with red sauce, Thai food like a stir fry with lots of veggies and sprinkled with peanuts, fruit like berries, peaches or apricots
Extra Tip: Add dried to dish at least 15 minutes before they are done cooking for full flavor. Add fresh right before serving to avoid flavor loss or wilting.
Curry Powder
Is a blend of spices usually including coriander, fenugreek, turmeric, cumin, and others.
Delicious Pairings: Indian food like lentil potato stew, breakfast veggie and egg scramble, whole grains like brown rice or quinoa with cilantro, and tuna with celery and no added sugar low-fat yogurt for a delicious sandwich
Extra Tip: Some curry powder can be hot and spicy. If you prefer a milder one (or a hotter one) look up a recipe online and make your own mix from spices in your spice drawer.
Cumin
Tastes toasty and earthy with a little spice.
Delicious Pairings: Mexican food like black bean salsa or refried beans, fish such as tilapia, especially in fish tacos and root vegetables
Extra Tip: Cumin is also part of the Indian spice mix garam masala. Delicious when paired with coriander in Mexican or Indian food.
Rosemary
Tastes woody.
Delicious Pairings: Roasted meats like chicken, pork, lamb or salmon, mushrooms, raw or cooked, whole grain breads, and butternut squash or pumpkin
Extra Tip: Long sticks of fresh rosemary can be used to brush marinades on meat or as a skewer stick for grilled kabobs.
Smoked Paprika
Tastes smoky and woody.
Delicious Pairings: Egg dishes, spice rubs for meats or even tofu, in a fruit salsas like mango, and tomato sauce
Extra Tip: Use it to add the smokiness of bacon to any dish without the extra fat or salt.
Thyme
Tastes earthy.
Delicious Pairings: Any bean dish, blends well with bay leaves, parsley, or lemon zest, and roasted vegetables
Extra Tip: Lightly crush dried leaves between your fingers when adding to a dish to release the flavor.
Cinnamon
Tastes sweet and spicy.
Delicious Pairings: Whole grain muffins, waffles, pancakes or breads and fruit crisps with oatmeal topping. Greek meat dishes like lamb or beef stew with oregano and onions
Extra Tip: The natural sweetness means you can cut the amount of sugar in some recipes.
---