Enjoy this protein-rich breakfast any day of the week!
Nutrition Facts
Broccoli and Cheese Egg White Scramble on Whole-Wheat English Muffin

Calories
139 Per Serving
Protein
15g Per Serving
Fiber
3g Per Serving
Nutrition Facts
×
Calories
139
Total Fat
1.0 g
Saturated Fat
0.0 g
Trans Fat
0.0 g
Polyunsaturated Fat
0.5 g
Monounsaturated Fat
0.0 g
Cholesterol
2 mg
Sodium
338 mg
Total Carbohydrate
18 g
Dietary Fiber
3 g
Sugars
5 g
Protein
15 g
Dietary Exchanges
1 starch, 2 lean meat
Ingredients
Cooking spray
1 1/2 cups finely chopped fresh or frozen broccoli florets, thawed if frozen
1/4 cup water
8 extra-large egg whites or 1 1/4 cups egg white substitute
1/2 cup fat-free milk
1/4 teaspoon pepper (freshly ground preferred)
1/4 cup shredded fat-free Cheddar cheese
2 whole-wheat English muffins (lowest sodium available)
Directions
Lightly spray a large skillet with cooking spray. Heat over medium-high heat. Cook the broccoli and water for 4 to 5 minutes, or until the broccoli is tender. Remover from the heat. Transfer the broccoli to a dish. Using paper towels, wipe the skillet clean.
In a large bowl, whisk together the egg whites, milk, and pepper until combined.
Meanwhile, lightly spray the skillet with cooking spray. Heat over medium-high heat. Pour in the egg white mixture. Cook for 2 to 3 minutes, or until almost firm, stirring constantly with a spatula. Stir in the broccoli and Cheddar. Remove from the heat.
Just before serving, split and toast each English muffin. Transfer to plates. Spoon the egg mixture onto the muffins.
Cooking Tip: The secret to perfectly cooked scrambled eggs is removing them from the heat just before they're fully cooked. The heat they've retained will continue to cook them for another minute.
Keep it Healthy: Red bell peppers, green beans, and zucchini also work well in this recipe. Just chop the vegetables finely so they'll cook for the same amount of time.
Tip: Substitute corn tortillas for English muffins to turn this dish into breakfast tacos. Also add 1 chopped tomato and 1 chopped fresh jalapeño if desired.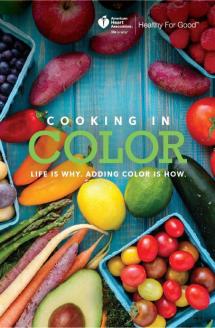 Cooking in Color
This digest-size recipe booklet includes 27 healthful recipes, all including fruits, vegetables, or both. Each recipe is accompanied by a vibrant photograph, and the recipes are organized by color. Also included is a fruit/veggie storage guide and a fruit/veggie equivalency guide.
Shop Heart
Copyright © 2018 American Heart Association, Healthy for Good™. Every purchase helps fund the work of the AHA/ASA.