Because portobello mushrooms have a meaty texture, you won't miss the meat in this vegetarian dish.
Nutrition Facts
Couscous-Stuffed Portobello Mushroom Caps with Mozzarella

Calories
261 Per Serving
Protein
14g Per Serving
Fiber
6g Per Serving
Nutrition Facts
×
Calories
261
Total Fat
6.5 g
Saturated Fat
0.5 g
Trans Fat
0.0 g
Polyunsaturated Fat
2.0 g
Monounsaturated Fat
3.5 g
Cholesterol
4 mg
Sodium
311 mg
Total Carbohydrate
37 g
Dietary Fiber
6 g
Sugars
5 g
Added Sugars
0 g
Protein
14 g
Dietary Exchanges
2 starch, 2 vegetable, 1 lean meat, 1/2 fat
Ingredients
8 portobello mushrooms (with caps that are about 5 inches in diameter)
3/4 cup uncooked couscous
1 1/2 cups chopped plum (Roma) tomatoes (about 3)
3/4 cup chopped green onions
2 tablespoons chopped black olives, drained
1 1/2 tablespoons canola or corn oil
1 tablespoon balsamic vinegar
1/4 teaspoon pepper (freshly ground preferred)
1 1/4 cups boiling water
3 ounces shredded fat-free mozzarella cheese
Directions
Preheat the oven to 400

˚

F. Line a large baking sheet with aluminum foil.

Remove and discard the stems from each mushroom. Using a spoon, scrape the black gills from the underside of each mushroom cap. Transfer the caps to the baking sheet with the cavities up.
Bake for 20 minutes, or until the mushrooms are soft.
Put the couscous in a medium bowl. Put the tomatoes, green onions, and olives on the couscous.
In a small bowl, whisk together the oil, vinegar, and pepper. Pour over the couscous and vegetables.
Pour the water over all, stirring to combine. Cover the bowl tightly. Let stand to steam for 10 to 15 minutes, or until the couscous is fully cooked. Fluff with a fork.
When the mushroom caps are baked, use a paper towel to blot up any extra moisture on the mushrooms. Spoon the couscous mixture into the caps, filling each one. Sprinkle the mozzarella over the couscous mixture.
Return the baking sheet to the oven. Bake for 10 minutes, or until the mozzarella melts. Serve immediately.
Cooking Tip: When shopping for the mushrooms to use in this recipe, choose mushrooms with caps deep enough to hold the stuffing. Instead of discarding the mushroom stems, you can always freeze them to use later when making chicken or vegetable broth.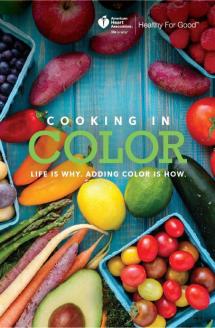 Cooking in Color
This digest-size recipe booklet includes 27 healthful recipes, all including fruits, vegetables, or both. Each recipe is accompanied by a vibrant photograph, and the recipes are organized by color. Also included is a fruit/veggie storage guide and a fruit/veggie equivalency guide.
Shop Heart
Copyright © 2018 American Heart Association, Healthy for Good™. Every purchase helps fund the work of the AHA/ASA.