Let chicken slow cook in a bath of citrus and seasonings during the day and when it's done top it with vegetables soaked in a sweet and spicy quick marinade.
Nutrition Facts
Slow Cooker Pulled Orange Chicken Tacos with Pickled Vegetables

Calories
305 Per Serving
Protein
29g Per Serving
Fiber
5g Per Serving
Cost Per Serving
$5.29
Nutrition Facts
×
Calories
305
Total Fat
4.5 g
Saturated Fat
0.5 g
Trans Fat
0.0 g
Polyunsaturated Fat
0.5 g
Monounsaturated Fat
1.0 g
Cholesterol
76 mg
Sodium
323 mg
Total Carbohydrate
36 g
Dietary Fiber
5 g
Sugars
10 g
Added Sugars
0 g
Protein
29 g
Dietary Exchanges
2 starch, 1 vegetable, 4 lean meat
Ingredients
Chicken
1 14.5-ounce can no-salt-added diced tomatoes, undrained
2 medium onions, coarsely chopped
1 cup fat-free, low-sodium chicken broth
1 cup water
1 medium bell pepper (any color), coarsely chopped
3/4 cup 100% orange juice
1 large unpeeled orange, halved
2 tablespoons dried Italian seasoning, crumbled
2 tablespoons cider vinegar
4 medium garlic cloves, minced

OR

2 teaspoons bottled minced garlic
4 boneless, skinless chicken breasts (about 4 ounces each), all visible fat discarded
Pickled Vegetables
1/2 medium carrot, cut into bite-size strips
1/2 medium red onion, cut into thin strips
1/3 medium cucumber, peeled and seeded, cut into bite-size strips
1/2 cup cider vinegar
1/2 cup water
1 tablespoon diced fresh jalapeño, seeds and ribs discarded (optional)
1 tablespoon low-calorie sweetener
1/2 teaspoon black peppercorns
1 medium dried bay leaf
1/4 teaspoon salt
Tacos
8 6-inch corn tortillas
1/3 cup fat-free sour cream
3/4 cup shredded red cabbage
Directions
In a slow cooker, stir together the tomatoes with liquid, onions, broth, water, bell pepper, orange juice, orange halves, Italian seasoning, vinegar, and garlic.
Submerge the chicken under the tomato mixture. Cook, covered, on low for 4 to 6 hours.
Using a slotted spoon, transfer the chicken to a cutting board. Transfer the tomatoes, onions, and bell pepper to a large bowl. Discard the cooking liquid and orange halves.
When cool enough to handle, using two forks, shred the chicken. Combine the shredded chicken with the tomato mixture. Set aside.
In a medium bowl, combine the carrot, red onion, and cucumber.
In a small saucepan, stir together the vinegar, water, jalapeño, sweetener, peppercorns, bay leaf, and salt. Bring to a boil over high heat. Discard the bay leaf. Pour the pickling liquid over the carrot mixture.
Let stand to marinate for 15 to 30 minutes.
Place the tortillas on a clean work surface. Fill each with 1/2 cup chicken mixture and about 1/4 cup pickled vegetables. Spoon the sour cream over the filling. Garnish with the cabbage.
Tip: You can use an English, or hothouse, cucumber for this recipe. They can be expensive, though. When using a regular cucumber, first peel and discard the waxy skin. Slice the cucumber in half lengthwise and use a spoon to scoop out the seeds and pulp.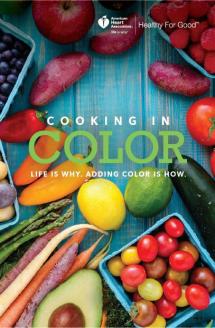 Cooking in Color
This digest-size recipe booklet includes 27 healthful recipes, all including fruits, vegetables, or both. Each recipe is accompanied by a vibrant photograph, and the recipes are organized by color. Also included is a fruit/veggie storage guide and a fruit/veggie equivalency guide.
Shop Heart
Copyright © 2018 American Heart Association, Healthy for Good™. Every purchase helps fund the work of the AHA/ASA.