Simple Cooking with Heart helps you enjoy a rainbow of colorful veggies in the classic Italian lasagna style -- and in the process, make it heart-healthier, too.
Nutrition Facts
Eggplant, Cheese & Tomato Bake

Calories
161 Per Serving
Protein
9g Per Serving
Fiber
5g Per Serving
Cost Per Serving
$2.18
Nutrition Facts
×
Calories
161
Total Fat
5.5 g
Saturated Fat
2.5 g
Trans Fat
0.0 g
Polyunsaturated Fat
0.5 g
Monounsaturated Fat
2.0 g
Cholesterol
13 mg
Sodium
138 mg
Total Carbohydrate
20 g
Dietary Fiber
5 g
Sugars
10 g
Protein
9 g
Ingredients
1 large sliced eggplant (about 17-20 slices)
1 medium thinly sliced onion (about 2 cups), cut into bite-size pieces
2 zucchini (about 2 cups), cut into bite-size pieces
non-stick Cooking spray
2 tsp. extra virgin olive oil or canola oil
3 cups mushrooms (sliced)
3 clove minced garlic

OR

3 tsp. fresh, minced garlic
2 Tbsp. water
1/4 tsp. black pepper
29 oz. canned, no salt added, diced tomatoes
8 oz. canned, no salt added tomato sauce
3 Tbsp. fresh, chopped basil

OR

1 Tbsp. dried basil
3/4 cup part-skim, low-fat ricotta cheese
1 cup low-moisture, part-skim mozzarella cheese (shredded)
1 cup whole-wheat bread crumbs

OR

1 cup panko (Japanese breadcrumbs)
Directions
Preheat oven to 375° F
Arrange eggplant, onions and zucchini on a baking sheet, sprayed with cooking spray. Lightly spray top of vegetables with cooking spray as well. Cover with aluminum foil. Bake for 10 minutes covered and 10 minutes uncovered.
In a small saucepan, heat extra virgin olive oil over medium heat, sauté mushrooms and garlic with water and pepper, until mushrooms begin to soften, about 6 minutes. Add diced tomatoes, tomato sauce and basil, reduce heat and simmer for 10 minutes.
Spread 1/2 tomato-mushroom mixture on bottom of a 9x13 baking dish coated with cooking spray. Then layer half of the eggplant, zucchini and onion. Layer all of ricotta, and sprinkle a layer of half the mozzarella. Repeat layers with another 1/2 of tomato-mushroom mixture and the remaining eggplant, zucchini and onion. Add the remaining tomato mixture, evenly sprinkle the remaining mozzarella and top with breadcrumbs. Bake for 30-45 minutes or until most of the liquid has disappeared and cheese begins to brown. Let cool for 10 minutes before cutting and serving.
Tip: For a quick second night meal, toss leftover vegetables with a low sodium pasta sauce and whole wheat pasta.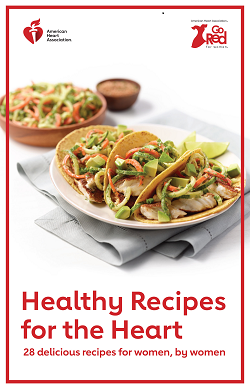 Healthy Recipes for the Heart
This digest-size recipe booklet contains 28 recipes, including Baked Flautas, Carne Asada with Chimichurri Sauce, Macaroni and Cheese with Spinach, Vegetable Migas, Jerk Tilapia Tacos with Zoodle Slaw, and Slow Cooker Thai Chicken Soup; blood pressure info and AHA recommended blood pressure levels; Blood Pressure Measurement Instruction infographic; an inspiring personal story shared by a GR Real Woman; full-color interior and photos; glossy cover; AHA dietary and lifestyle recommendations; Go Red Get Fit info; updated messaging and info about GRFW; and warning signs for heart attack and stroke.
Shop Heart