Minute steaks, thin cuts of round steak, actually take about a minute and a half to cook. Talk about fast! A coffee-based reduction adds boldness to the dish.
Nutrition Facts
Espresso Minute Steaks - Delicious Decisions

Calories
158 Per Serving
Protein
26g Per Serving
Fiber
0g Per Serving
Nutrition Facts
×
Calories
158
Total Fat
5.0 g
Saturated Fat
1.0 g
Trans Fat
0.0 g
Polyunsaturated Fat
1.0 g
Monounsaturated Fat
2.5 g
Cholesterol
58 mg
Sodium
219 mg
Total Carbohydrate
1 g
Dietary Fiber
0 g
Sugars
1 g
Protein
26 g
Dietary Exchanges
3 lean meat
Ingredients
1/2 cup strong coffee

OR

1 tsp. instant coffee granules (dissolved in 1/2 cup water)
1 tsp. Worcestershire sauce (lowest sodium available)
2 tsp. balsamic vinegar
1/4 tsp. salt
1 tsp. canola or corn oil and 1 tsp. canola or corn oil
4 minute steaks or thin round steaks (about 4 ounces each)
2 Tbsp. finely chopped green onions, (optional)
Directions
In a small bowl, stir together the coffee, Worcestershire sauce, vinegar, and salt. Set aside.
In a large nonstick skillet, heat 1 teaspoon oil over medium-high heat, swirling to coat the bottom. Cook 2 steaks for 1 minute. Turn over. Cook for 30 seconds, or until barely pink in the center. Transfer to a platter. Cover to keep warm. Repeat with the remaining 1 teaspoon oil and remaining steaks.
Stir the coffee mixture into the pan drippings, scraping to dislodge any browned bits. Bring to a boil over medium-high heat. Boil for 3 minutes, or until the mixture is reduced to 2 tablespoons, stirring frequently. Pour over the beef. Sprinkle with the green onions.
Tip: Cooking the steaks in two batches ensures that they have more room and thus will brown, not stew.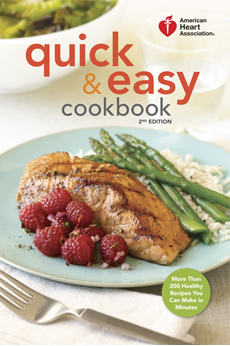 American Heart Association Quick & Easy Cookbook, 2nd edition
With more than 200 recipes, you can quickly and easily get dinner on the table every night of the week. No recipe takes longer than 20 minutes to prepare, and many recipes can be made in 30 minutes—from start to finish.
Sample Recipes:
Grilled Salmon with Mango-Lime Cream Sauce
Purchase:
This recipe is reprinted with permission from American Heart Association Quick & Easy Cookbook, Second Edition, Copyright © 2012 by the American Heart Association. Published by Clarkson Potter/Publishers, a division of Random House, Inc. Available from booksellers everywhere.