Mojo is used as a marinade in this recipe to tenderize the pork before it's grilled. Caramelized plantains are a sweet accompaniment to the tart, citrus-based Cuban sauce.
Nutrition Facts
Grilled Cuban Mojo Marinated Pork Tenderloin with Plantains

Calories
317 Per Serving
Protein
28g Per Serving
Fiber
2g Per Serving
Nutrition Facts
×
Calories
317
Total Fat
11.0 g
Saturated Fat
2.0 g
Trans Fat
0.0 g
Polyunsaturated Fat
2.5 g
Monounsaturated Fat
6.0 g
Cholesterol
75 mg
Sodium
135 mg
Total Carbohydrate
29 g
Dietary Fiber
2 g
Sugars
13 g
Added Sugars
0 g
Protein
28 g
Dietary Exchanges
2 fruit, 4 lean meat
Ingredients
1/2 cup tightly packed fresh cilantro
1/2 cup 100% orange juice (juice from 1 medium orange)
2 medium green onions, coarsely chopped
1/4 cup fresh lemon juice (from 1 to 2 medium lemons)
1/4 cup fresh lime juice (from 2 to 3 medium limes)
8 medium garlic cloves
1 teaspoon ground cumin
1 teaspoon dried oregano, crumbled
1 1/4 pounds pork tenderloin, all visible fat discarded
1 1/2 tablespoons canola or corn oil and 1 1/2 teaspoons canola or corn oil, divided use
1/8 teaspoon pepper and 1/8 teaspoon pepper (freshly ground preferred), divided use
1/8 teaspoon salt
2 ripe plantains, peeled and cut diagonally into slices about 1/2-inch thick
Cooking spray
Directions
In a food processor or blender, process the cilantro, orange juice, green onions, lemon juice, lime juice, garlic, cumin, and oregano. Process for about 1 minute, or until smooth. Transfer the marinade to a large shallow dish, reserving 1/4 cup. Add the pork, turning to coat. Cover and refrigerate for 2 to 24 hours, turning occasionally.
About 30 minutes before the pork is ready to grill, preheat the oven to 450°F and preheat the grill on medium high.
In a large bowl, whisk together 1 1/2 tablespoons oil, 1/8 teaspoon pepper, and the salt until combined. Add the plantain slices, turning to coat.
Cover a large baking sheet and two smaller ones with aluminum foil. Lightly spray all three sheets with cooking spray. Arrange the plantains in a single layer on the baking sheets. Bake for 15 minutes. Remove from the oven.
Turn over the plantains. Bake for 10 to 15 minutes, or until the plantains are crisp and caramelized on the outer edges. Watch carefully so they don't burn.
Meanwhile, drain the pork, gently wiping off most of the marinade. Discard the marinade.
Sprinkle the remaining 1/8 teaspoon pepper over the pork. Using a basting brush, brush the remaining 1 1/2 teaspoons oil over the pork. Transfer to the grill.
Grill the pork for 15 to 20 minutes, or until the thickest part of the pork reaches an internal temperature of 145°F, turning every few minutes.
Transfer the pork to a cutting board. Let stand for at least 5 minutes. Cut into slices. Transfer to a large platter. Spoon the reserved marinade over the pork. Serve with the plantains.
Keep it Healthy:
Marinating lean meat, such as pork tenderloin, helps keep it moist and tender.
Cooking Tip: When shopping for plantains, look for ones that are yellow- and black-spotted, a perfect sign of ripeness.
Tip: No grill? No problem. You can cook the pork tenderloin in the oven. Proceed with the directions through basting the pork with the remaining 1 1/2 teaspoons oil. In a large skillet, heat 2 teaspoons canola or corn oil over high heat. Cook the pork for 2 1/2 minutes on each side, or until golden brown. Transfer to a baking sheet. Bake in the preheated oven with the plantains for 15 to 20 minutes, or until the thickest part of the pork reaches an internal temperature of 145°F.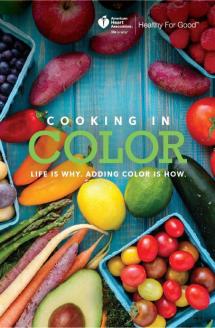 Cooking in Color
This digest-size recipe booklet includes 27 healthful recipes, all including fruits, vegetables, or both. Each recipe is accompanied by a vibrant photograph, and the recipes are organized by color. Also included is a fruit/veggie storage guide and a fruit/veggie equivalency guide.
Shop Heart
Copyright © 2018 American Heart Association, Healthy for Good™. Every purchase helps fund the work of the AHA/ASA.