This protein-packed soup is an ideal dinner for busy days. Herbes de Provence lend a flavor of the French Riviera and the smoked paprika harmonizes nicely with the pepperiness of the kale.
Slow Cooker Size/Shape: 3- to 4 1/2-quart round or oval
Slow Cooking Time: 6 to 8 hours on low, OR 2 to 3 hours on high
Nutrition Facts
Kale and Red Quinoa Soup

Calories
245 Per Serving
Protein
10g Per Serving
Fiber
10g Per Serving
Nutrition Facts
×
Calories
245
Total Fat
6.0 g
Saturated Fat
0.5 g
Trans Fat
0.0 g
Polyunsaturated Fat
1.0 g
Monounsaturated Fat
3.0 g
Cholesterol
0 mg
Sodium
294 mg
Total Carbohydrate
40 g
Dietary Fiber
10 g
Sugars
6 g
Protein
10 g
Dietary Exchanges
2 starch, 2 vegetable, 1/2 lean meat
Ingredients
1 14.5-ounce can no-salt-added whole tomatoes, undrained
1 14.5-ounce can no-salt-added Great Northern beans, rinsed and drained
4 cups coarsely chopped kale (1/2 of a 5-ounce bunch), any large stems discarded
2 cups fat-free vegetable broth (low-sodium)
1/2 cup red quinoa, rinsed and drained in a fine-mesh sieve
1 medium carrot, cut into 1/2-inch slices (about 1/2 cup)
1 medium rib of celery, cut into 1/2-inch slices (about 1/2 cup)
1/2 cup chopped red onion
1 tablespoon olive oil
2 medium minced garlic cloves
3/4 teaspoon dried herbes de Provence or dried thyme, crumbled
1/2 teaspoon crushed red pepper flakes
1/2 teaspoon smoked paprika (sweet or hot)
1/4 teaspoon salt
1/4 teaspoon pepper
Directions
Put all the ingredients in the slow cooker. Cook, covered, on low for 6 to 8 hours or on high for 2 to 3 hours, or until the vegetables and quinoa are tender.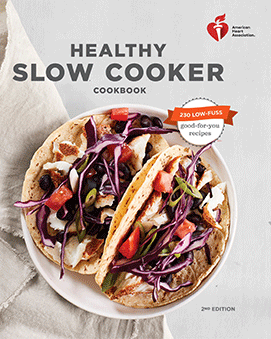 AHA Healthy Slow Cooker Cookbook, 2nd Edition
The versatile slow cooker is American's favorite kitchen appliance -- AND -- it can help support a healthy diet! The American Heart Association Healthy Slow Cooker Cookbook, 2nd Edition is back with brand new recipes that utilize your slow cooker and nourish you. From appetizers to desserts, the 230 recipes in this cookbook will surprise you with their variety and depth of flavor. Photography ©2018 by Lauren Volo.
Sample Recipes:
Acorn Squash Wedges with Walnuts
This recipe is reprinted with permission from Healthy Slow Cooker Cookbook, 2nd Edition. Copyright © 2018 by the American Heart Association. Published by Harmony Books, an imprint of Penguin Random House LLC. Available from booksellers everywhere.