Pineapple, cranberries, and cinnamon combine in a tangy salsa that's great for the winter holidays and refreshing enough for a hot summer's day.
Nutrition Facts
Pork Tenderloin with Cranberry Salsa - Delicious Decisions

Calories
206 Per Serving
Protein
24g Per Serving
Fiber
2g Per Serving
Nutrition Facts
×
Calories
206
Total Fat
2.5 g
Saturated Fat
1.0 g
Trans Fat
0.0 g
Polyunsaturated Fat
0.0 g
Monounsaturated Fat
1.0 g
Cholesterol
74 mg
Sodium
207 mg
Total Carbohydrate
21 g
Dietary Fiber
2 g
Sugars
17 g
Protein
24 g
Dietary Exchanges
3 very lean meat, 1 1/2 fruit
Ingredients
Pork
1 lb. pork tenderloin (all visible fat discarded)
1/4 tsp. paprika
1/4 tsp. salt
1/4 tsp. pepper
1/8 tsp. garlic powder
Salsa
1 cup chopped, fresh pineapple

OR

1 cup canned pineapple chunks (packed in their own juice, drained)
1/2 cup dried sweetened cranberries
1/4 cup finely chopped red onion
1 medium poblano pepper (seeds and ribs discarded, finely chopped)
1 tsp. grated, peeled gingerroot
1/2 tsp. ground cinnamon
Directions
Preheat the oven to 425°F.
Place the pork on a baking sheet, tucking the narrow end under so the pork is an even thickness.
In a small bowl, stir together the remaining ingredients. Sprinkle over the pork. Using your fingertips, gently press the mixture so it adheres to the pork.
Bake for 20 to 25 minutes, or until the pork registers 150°F on an instant-read thermometer. Transfer to a cutting board. Let stand for about 5 minutes before slicing. The pork will continue to cook during the standing time, reaching about 160°F. It should be a little pink in the center. Serve with the salsa on the side.
Cooking Tip: For a milder dish or if poblanos are not available, use a medium green bell pepper instead. If you'd still like a little heat, add 1/8 teaspoon dried red pepper flakes to the salsa.

Tip: Serving size 3 ounces pork and 1/2 cup salsa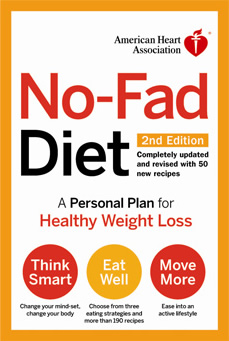 American Heart Association No-Fad Diet Cookbook
Learn how to shed unhealthy pounds and keep them off with the American Heart Association's comprehensive weight-loss book. Lose weight and enjoy every bite as you put our eating strategies and activity strategies — and more than 190 delectable recipes — to work for you.
Sample Recipes:
Pork Tenderloin with Cranberry Salsa
This recipe is reprinted with permission from American Heart Association No-Fad Diet: A Personal Plan for Healthy Weight Loss, Second Edition, Copyright © 2011 by the American Heart Association. Published by Clarkson Potter/Publishers, a division of Random House, Inc. Available from booksellers everywhere.