Simple Cooking with Heart helps you whip up an authentic Southern favorite in your own kitchen. This classic dish is full of Cajun seasoning. Including prep time, it only takes 25 minutes!
Nutrition Facts
Red Beans and Rice with Corn on the Cob

Calories
413 Per Serving
Protein
15g Per Serving
Fiber
8g Per Serving
Cost Per Serving
$1.96
Nutrition Facts
×
Calories
413
Total Fat
4.5 g
Saturated Fat
1.0 g
Trans Fat
0.0 g
Polyunsaturated Fat
1.0 g
Monounsaturated Fat
2.5 g
Cholesterol
0 mg
Sodium
29 mg
Total Carbohydrate
83 g
Dietary Fiber
8 g
Sugars
11 g
Protein
15 g
Dietary Exchanges
5 1/2 starch, 1/2 lean meat
Ingredients
Corn on the Cob
4 large ears of corn
pepper
butter substitute spray (optional)
Red Beans and Rice
1 cup uncooked rice
2 tsp. extra virgin olive oil
4 cloves garlic (chopped)

OR

2 tsp. jarred, minced garlic
11/2 cups cooked red beans, cooked without salt, or 1 15.5-ounce can so-added red beans, kidney beans, black beans, pinto beans, or black-eyed peas
1/2 tsp. salt-free Cajun seasoning
1/4 tsp. black pepper
1/2 small white onion (thinly sliced)

OR

4 scallions (sliced)
Directions
Corn on the Cob
Removing the husks, pull off the silky threads, and cut out any blemishes with a pointed knife
Bring a large pot of water to a boil. Add the corn, cover and cook 5 minutes. Drain and cut into halves, if desired.
Season to taste with butter substitute spray and pepper.
Red Beans and Rice
Cook rice to package directions.
While rice cooks, heat oil in skillet over medium heat. Add onions and cook 2 minutes, stirring occasionally. Add garlic and cook for 1 minute. Add beans, seasoning and pepper. Cook until heated through, 3-5 minutes, stirring occasionally.
Add rice to bean mixture.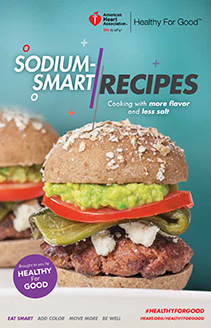 Sodium-Smart Recipes
This digest-sized booklet contains 28 recipes and photographs. It also contains information on how sodium affects overall health, a reference guide for sodium-free flavorings and provides American Heart Association's dietary recommendations.
Shop Heart