This summertime recipe enjoys fresh seasonal vegetables when they're at their peak and takes advantage of a favorite mid-year cooking method.
Nutrition Facts
Rockfish Fajita Stuffed Tomatoes

Calories
356 Per Serving
Protein
28g Per Serving
Fiber
9g Per Serving
Nutrition Facts
×
Calories
356
Total Fat
12.0 g
Saturated Fat
2.0 g
Trans Fat
0.0 g
Polyunsaturated Fat
2.5 g
Monounsaturated Fat
6.5 g
Cholesterol
40 mg
Sodium
111 mg
Total Carbohydrate
39 g
Dietary Fiber
9 g
Sugars
8 g
Protein
28 g
Dietary Exchanges
3 vegetable, 1 1/2 starch, 3 lean meat
Ingredients
Cooking spray
1 pound rockfish, striped bass, or any mild white fish fillets, rinsed and patted dry
2 teaspoons chili powder
1/2 teaspoon onion powder
1/2 teaspoon garlic powder
1/2 teaspoon ground cumin
1/4 teaspoon cayenne
1/4 teaspoon pepper (freshly ground preferred)
1 medium lemon, sliced
1 teaspoon canola oil

OR

1 teaspoon corn oil
1 medium red bell pepper, chopped
1 medium yellow onion, chopped
3 medium garlic cloves, chopped
1 cup fresh corn
1 medium avocado, peeled, pitted, and cubed
1 cup cooked brown rice
4 large tomatoes, about 1 inch of the top cut off, seeds and pulp scooped out and discarded
Directions
Preheat the grill on medium high.
Cut a large piece of aluminum foil (large enough to wrap around the fish fillets). Lightly spray one side with cooking spray. Arrange the fish in a single layer on the foil.
In a small bowl, stir together the chili powder, onion powder, garlic powder, cumin, cayenne, and pepper. Sprinkle over the fish fillets. Using your fingertips, gently press the mixture so it adheres to the fish. (You can use more or less of the chili powder mixture depending on how spicy you'd like the finished dish to be.)
Top the fish with the lemon slices. Bring the sides and ends of the foil together. Fold tightly to make a sealed packet.
Transfer the packet to the grill. Close the grill lid. Grill for 10 to 15 minutes, or until the fish flakes easily when tested with a fork. (To test for doneness, use the tines of the fork. Carefully open the packet away from you to prevent steam burns. If the fish isn't cooked enough, reclose the packet and continue grilling.)
Meanwhile, in a skillet, heat the oil over medium-high heat, swirling to coat the bottom. Cook the bell pepper for 2 minutes, stirring occasionally. Stir in the onion. Cook for 2 minutes, stirring occasionally. Stir in the garlic. Cook for 2 minutes, stirring frequently. Stir in the corn. Cook for 2 minutes.
Fold in the avocado and cooked brown rice. Cook for 1 to 2 minutes, stirring gently to combine the ingredients. Remove from the heat.
Remove the fish from the grill. Flake into bite-size pieces. Carefully fold into the vegetable mixture.
Fill the tomatoes with the fish/vegetable mixture. Transfer the tomatoes to the grill. Grill for 5 minutes.
Keep it Healthy: To save time, buy frozen or microwaveable rice in a pouch. Just be sure to read the Nutrition Facts labels since some varieties can contain a few as 0 milligrams of sodium and some as much as 900 milligrams of sodium for a one-cup serving.
Cooking Tip: Use a grapefruit spoon to easily scoop out the pulp of the tomatoes.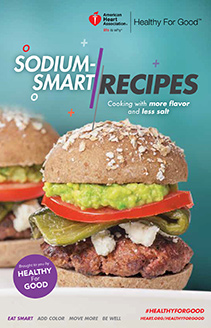 Sodium-Smart Recipes
This digest-sized booklet contains 28 recipes and photographs. It also contains information on how sodium affects overall health, a reference guide for sodium-free flavorings and provides American Heart Association's dietary recommendations.
Shop Heart