Cucumbers, red onion, dill, and lemon are traditional accompaniments for smoked salmon, but they're just as delectable when baked with fresh fillets. Serve this with brown rice, quinoa, or the whole grain of your choice.
Nutrition Facts
Salmon Baked with Cucumbers and Dill

Calories
200 Per Serving
Protein
26g Per Serving
Fiber
2g Per Serving
Nutrition Facts
×
Calories
200
Total Fat
7 g
Saturated Fat
1.5 g
Trans Fat
0 g
Polyunsaturated Fat
2.5 g
Monounsaturated Fat
2.5 g
Cholesterol
50 mg
Sodium
165 mg
Total Carbohydrate
6 g
Dietary Fiber
2 g
Sugars
3 g
Protein
26 g
Dietary Exchanges
1 vegetable, 4 lean meat
Ingredients
Cooking spray
2 small cucumbers (peeled, ends trimmed)
1/2 small red onion (finely chopped)
4 salmon fillets (about 4 ounces each), rinsed, patted dry
2 Tbsp. fresh lemon or lime juice
1/4 cup chopped, fresh, loosely packed dillweed
1/4 tsp. salt
1/4 tsp. pepper
Directions
Preheat the oven to 400°F. Lightly spray an 11 x 7 x 2-inch baking dish with cooking spray.
Cut each cucumber in half lengthwise. Scoop out and discard the seeds. Slice the cucumbers into 1/4-inch-thick crescents. Arrange the cucumbers and onion around the edges of the baking dish.
Place the fish in the center of the dish. Sprinkle the lemon juice over the fish. Sprinkle the remaining ingredients over the fish, cucumbers, and onion.
Bake for 15-20 minutes, or until the fish is cooked to the desired doneness and the vegetables are tender-crisp.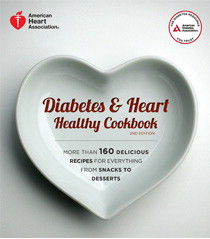 Diabetes & Heart Healthy Cookbook, 2nd edition
The American Heart Association has developed tasty and heart-healthy recipes that meet its dietary recommendations. These recipes are also designed to be consistent with the American Diabetes Association dietary guidelines and will introduce variety into meal plans for anybody looking to eat a more healthful diet.
Sample Recipes:
Salmon Baked with Cucumbers and Dill
Seared Chicken with Strawberry Salsa
Purchase:
This recipe is reprinted with permission from Diabetes & Heart Healthy Cookbook, 2nd Edition. Copyright © 2014 by the American Diabetes Association, Inc.® and American Heart Association. Published by the American Diabetes Association. Available from booksellers everywhere.