A Tex-Mex dish that can be served for any meal, migas are corn tortilla strips that are gently fried and then stirred into scrambled eggs. This twist on a classic has a colorful array of vegetables.
Nutrition Facts
Vegetable Migas

Calories
136 Per Serving
Protein
8g Per Serving
Fiber
2g Per Serving
Nutrition Facts
×
Calories
136
Total Fat
6.5 g
Saturated Fat
1.0 g
Trans Fat
0.0 g
Polyunsaturated Fat
1.5 g
Monounsaturated Fat
3.5 g
Cholesterol
104 mg
Sodium
177 mg
Total Carbohydrate
11 g
Dietary Fiber
2 g
Sugars
4 g
Protein
8 g
Dietary Exchanges
1/2 starch, 1 vegetable, 1 lean meat, 1/2 fat
Ingredients
1/2 small red onion (finely chopped)
1/2 red bell pepper (seeded, finely chopped)
1/2 cup grated carrots
1/2 cup grated zucchini
1/2 cup finely chopped tomatoes
1/4 cup finely chopped green onions
1 medium fresh jalapeño, seeds and ribs discarded, finely chopped
2 extra-large eggs
3 egg whites
1/4 cup water
1/16 teaspoon salt (a pinch)
1/8 teaspoon ground black pepper
3 teaspoons canola oil (divided)
3 (6-inch) corn tortillas, cut into 1-inch strips
2 tablespoons salsa (lowest sodium available)
Directions
In a small bowl, using a fork, whisk together the eggs, egg whites, water, pepper, and salt. Set aside.
In a medium skillet, heat 1 teaspoon oil over medium-high heat, swirling to coat the bottom. Cook the onion, bell pepper, carrot, and zucchini for 4 to 5 minutes, stirring frequently. Stir in the tomatoes, green onions, and jalapeño. Cook for 1 to 2 minutes. Transfer the mixture to a plate.
In the same skillet, still over medium-high heat, heat the remaining 2 teaspoons oil, swirling to coat the bottom. Cook the tortilla strips for 3 to 4 minutes, or until golden, stirring constantly. Stir in the salsa. Cook for 1 minute. Stir in the egg mixture. Cook for 2 minutes, or until the eggs are set, stirring constantly. Remove from the heat.
Stir in the vegetable mixture.
Cooking Tip: Don't use too large a pan to sauté a small amount of vegetables because they'll be more likely to burn.
Keep it Healthy: Using a smaller amount of oil or a nonstick pan is healthier than traditional frying.
Tip: Swap in other vegetables, such as sliced mushrooms, chopped asparagus, or even leftover roasted potatoes or sweet potatoes. Serve with a side of black beans.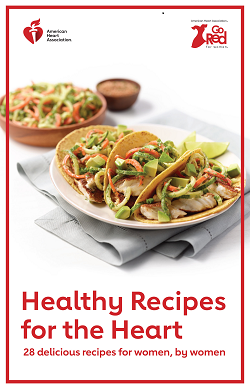 Healthy Recipes for the Heart
This digest-size recipe booklet contains 28 recipes, including Baked Flautas, Carne Asada with Chimichurri Sauce, Macaroni and Cheese with Spinach, Vegetable Migas, Jerk Tilapia Tacos with Zoodle Slaw, and Slow Cooker Thai Chicken Soup; blood pressure info and AHA recommended blood pressure levels; Blood Pressure Measurement Instruction infographic; an inspiring personal story shared by a GR Real Woman; full-color interior and photos; glossy cover; AHA dietary and lifestyle recommendations; Go Red Get Fit info; updated messaging and info about GRFW; and warning signs for heart attack and stroke.
Shop Heart