A Tex-Mex dish, migas are corn tortilla strips gently fried and incorporated into scrambled eggs. This spin on the classic uses very little oil while also adding an array of veggies into the mix.
Nutrition Facts
Vegetable Migas

Calories
136 Per Serving
Protein
7.7g Per Serving
Fiber
2.3g Per Serving
Nutrition Facts
×
Calories
136
Total Fat
6.6 g
Saturated Fat
1.2 g
Trans Fat
0.0 g
Polyunsaturated Fat
1.7 g
Monounsaturated Fat
3.3 g
Cholesterol
104 mg
Sodium
177 mg
Total Carbohydrate
11.4 g
Dietary Fiber
2.3 g
Sugars
3.9 g
Protein
7.7 g
Dietary Exchanges
1/2 starch, 1 vegetable, 1 lean meat, 1/2 fat
Ingredients
1/2 small red onion (finely chopped)
1/2 red bell pepper (seeded, finely chopped)
1/2 cup grated carrots
1/2 cup grated zucchini
1/2 cup finely chopped tomatoes
1/4 cup finely chopped green onions
1 jalapeño (finely chopped)
2 extra-large eggs
3 egg whites
1/4 cup water
Dash of salt
1/8 teaspoon ground black pepper
3 teaspoons canola oil (divided)
3 (6-inch) corn tortillas, cut into 1-inch strips
2 tablespoon low-sodium salsa
Directions
Prepare all the vegetables: finely chop both the red onion half and bell pepper half; use a box grater to grate enough carrots and zucchini for 1/2 cup each. Finely chop tomatoes, scallions, and jalapenos.
In a small bowl, add eggs, egg whites, water, salt, and pepper. Whisk together to combine using a fork. Use a knife or kitchen shears to cut each tortilla into 4 strips lengthwise. Then, slice each strip into 1-inch pieces. Reserve until needed.
In a medium nonstick sautee pan, add 1 teaspoon oil and warm over medium-high heat. Add onions, bell peppers, carrots, and zucchini. Stirring frequently, sautee; until vegetables are soft, about 4 to 5 minutes. Stir in tomatoes, scallions, and jalapeno; cook 1 to 2 minutes and remove from heat. Transfer the vegetable mixture to a plate and reserve.
Warm remaining 2 teaspoons oil over medium-high heat. Add tortilla strips and, stirring constantly with a spatula, cook until golden, about 3 to 4 minutes. Quickly stir in salsa and cook for 1 minute; stir in egg mixtures next. Continue to stir constantly until eggs are set, about 2 minutes. Remove from heat and mix in the reserved vegetables. Serve.
Cooking Tip: Be careful not to use too large of a pan for this recipe and others which call to sauté a small amount of vegetables, the reason being that the vegetables will be more prone to burning.
Keep it Healthy: A teaspoon or two of oil plus a nonstick pan does wonders in terms of being a substitute for a traditional frying cooking method.
Tip: Sliced mushrooms, chopped asparagus, or even leftover roasted potatoes or sweet potatoes can all be used in this recipe. Serve with a side of black beans.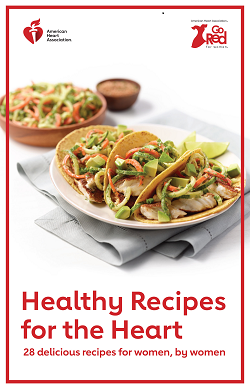 Healthy Recipes for the Heart
This digest-size recipe booklet contains 28 recipes, including Baked Flautas, Carne Asada with Chimichurri Sauce, Macaroni and Cheese with Spinach, Vegetable Migas, Jerk Tilapia Tacos with Zoodle Slaw, and Slow Cooker Thai Chicken Soup; blood pressure info and AHA recommended blood pressure levels; Blood Pressure Measurement Instruction infographic; an inspiring personal story shared by a GR Real Woman; full-color interior and photos; glossy cover; AHA dietary and lifestyle recommendations; Go Red Get Fit info; updated messaging and info about GRFW; and warning signs for heart attack and stroke.
Shop Heart