The brightness of the ginger and the pungency of the oyster sauce bring a lot of flavor to the delicate cod in this Vietnamese -inspired creation.
Nutrition Facts
Vietnamese Broiled Cod with Asparagus Peas and Water Chestnut Stir Fry

Calories
302 Per Serving
Protein
39.0g Per Serving
Fiber
10.4g Per Serving
Nutrition Facts
×
Calories
302
Total Fat
3.5 g
Saturated Fat
0.4 g
Trans Fat
0.0 g
Polyunsaturated Fat
1.0 g
Monounsaturated Fat
1.3 g
Cholesterol
73.1 mg
Sodium
538 mg
Total Carbohydrate
29.0 g
Dietary Fiber
10.4 g
Sugars
9.1 g
Protein
39.0 g
Dietary Exchanges
1 starch, 3 vegetable, 5 lean meat
Ingredients
2 tablespoon oyster sauce
3 to 4 tablespoon water
2 tablespoon canola oil (divided)
1 tablespoon brown sugar
ginger piece (peeled, roughly chopped)
2 garlic cloves (peeled)
4 scallions, dark and light parts separated
4 cod
1 bunch asparagus spears (cut into 2-inch pieces)
2 can sliced water chestnuts (drained)
1 bag frozen peas (thawed)
Directions
Into the bowl of a food processor, add oyster sauce, 2 tablespoons water, 1 tablespoon oil, brown sugar, ginger pieces, garlic, and light scallion parts. Process until mixture is pureed, about 1 minute. Reserve 2 tablespoons of marinade in the fridge for the vegetable mixture.
In a shallow container, add cod fillets and pour remaining marinade over it. Cover and refrigerate at least 1 hour and up to 12 hours.
When ready to cook, preheat the broiler. Prepare the vegetables for the stir-fry. Snap the ends off each asparagus spear and cut into 2-inch pieces. Chop the green parts of the scallions.
Remove fish fillets from the marinade, wiping a majority of the marinade off each piece of fish. Place onto a foil-lined baking sheet. Broil fish a few inches away from heat with the broiler door cracked slightly open until fish can be easily flaked with a fork, about 10 minutes.
Meanwhile, warm 1 tablespoon oil in a large nonstick pan or wok over high heat. Add asparagus; saute, stirring constantly, until mostly tender, about 3 minutes. Stir in 2 tablespoons reserved marinade, 1 to 2 tablespoons water, water chestnuts, and peas. Stir constantly until peas are cooked, about 3 to 4 minutes. Remove from heat and serve stir-fry with the cod.
Cooking Tip: If needed, add a few more tablespoons of water to the vegetable stir-fry if the marinade looks like it might burn while sauteing.
Keep it Healthy: Broiling requires less oil than sauteing fish on the stovetop while also adding a bit of tasty char to the fish.
Tip: Other firm white-fleshed fish, like halibut or sea bass, can be substituted for the cod.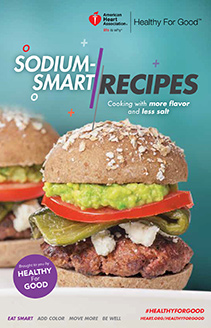 Sodium-Smart Recipes
This digest-sized booklet contains 28 recipes and photographs. It also contains information on how sodium affects overall health, a reference guide for sodium-free flavorings and provides American Heart Association's dietary recommendations.
Shop Heart