This fragrant dish pairs classic Asian seasonings with an unusual mixture of vegetables, including red cabbage and summer squash, all of which complement the beef. Served over nutty-tasting brown rice, this all-in-one meal provides protein, vegetables, and a whole grain.
Nutrition Facts
Sirloin and Broccoli Stir-Fry

Calories
400 Per Serving
Protein
32g Per Serving
Fiber
4g Per Serving
Nutrition Facts
×
Calories
400
Total Fat
9 g
Saturated Fat
2.5 g
Trans Fat
0 g
Polyunsaturated Fat
2 g
Monounsaturated Fat
4 g
Cholesterol
60 mg
Sodium
380 mg
Total Carbohydrate
47 g
Dietary Fiber
4 g
Sugars
4 g
Protein
32 g
Dietary Exchanges
3 starch, 4 lean meat
Ingredients
1 Tbsp. cornstarch
1 Tbsp. soy sauce (lowest sodium available)
1 tsp. grated, peeled gingerroot
1 medium garlic clove (minced)
1 lb. boneless steak, all visible fat discarded, cut crosswise into 1/4-inch strips, longer strips halved crosswise
1 cup uncooked, instant brown rice
1 cup fat-free, lower-sodium beef broth
2 Tbsp. hoisin sauce (lowest sodium available)
1 tsp. toasted sesame oil
1 tsp. canola or corn oil
3 oz. broccoli florets, broken into bite-size pieces
1 medium yellow summer squash, thinly sliced crosswise
4 medium green onions (thinly sliced)
2 oz. red cabbage (shredded)
1-2 Tbsp. water, as needed
Directions
Put the cornstarch in a medium bowl. Add the soy sauce, gingerroot, and garlic, whisking to dissolve the cornstarch. Add the beef, turning to coat. Cover and refrigerate for 10 minutes, turning occasionally.
Meanwhile, prepare the rice using the package directions, omitting the salt and margarine. Set aside.
In a small bowl, whisk together the broth, hoisin sauce, and sesame oil. Set aside.
In a large nonstick skillet or wok, heat the canola oil over medium-high heat, swirling to coat the bottom. Cook the beef mixture for 5 minutes, or until the beef is browned on the outside (it may be slightly pink in the center), stirring constantly. Transfer the beef mixture to a large plate.
In the same skillet, still over medium-high heat, stir together the remaining ingredients except the water. Cook for 2-3 minutes, or until the vegetables are tender-crisp, stirring constantly. If the mixture becomes too dry, stir in the water.
Return the beef mixture to the skillet. Pour in the broth mixture, stirring to combine. Cook for 1-2 minutes, or until the broth mixture thickens, stirring occasionally. Serve the stir-fry over the rice.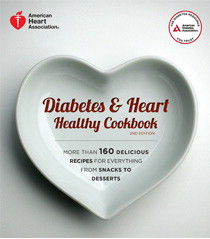 Diabetes & Heart Healthy Cookbook, 2nd edition
The American Heart Association has developed tasty and heart-healthy recipes that meet its dietary recommendations. These recipes are also designed to be consistent with the American Diabetes Association dietary guidelines and will introduce variety into meal plans for anybody looking to eat a more healthful diet.
Sample Recipes:
Salmon Baked with Cucumbers and Dill
Seared Chicken with Strawberry Salsa
Purchase:
This recipe is reprinted with permission from Diabetes & Heart Healthy Cookbook, 2nd Edition. Copyright © 2014 by the American Diabetes Association, Inc.® and American Heart Association. Published by the American Diabetes Association. Available from booksellers everywhere.