Eggplant, Cheese & Tomato Bake
Simple Cooking with Heart helps you enjoy a rainbow of colorful veggies in the classic Italian lasagna style -- and in the process, make it heart-healthier, too.
Ingredients
8 Servings
collapse
Quick Tips

Tip: For a quick second night meal, toss leftover vegetables with a low sodium pasta sauce and whole wheat pasta.

Directions
Tip: Click on step to mark as complete.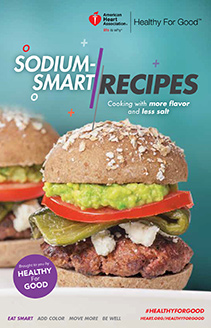 Like the Recipe? It and Many Others are Available in the Cookbook Below:
Sodium Smart Recipe Magazine
Copyright © 2018 American Heart Association, Healthy For GoodTM, heart.org/healthyforgood
Calories
161
Total Fat
5.5 g
Saturated Fat
2.5 g
Trans Fat
0.0 g
Polyunsaturated Fat
0.5 g
Monounsaturated Fat
2.0 g
Cholesterol
13 mg
Sodium
138 mg
Total Carbohydrate
20 g
Dietary Fiber
5 g
Sugars
10 g
Protein
9 g
Please sign in to add recipes to your Recipe Box.
Log In