Red Beans and Rice with Corn on the Cob
Simple Cooking with Heart helps you whip up an authentic Southern favorite in your own kitchen. This classic dish is full of Cajun seasoning. Including prep time, it only takes 25 minutes!
Ingredients
4 Servings
Red Beans and Rice
Corn on the Cob
10 min
Prep time
15 min
Cook time

1.96
Price per serving

413
Calories per serving

1.0 g
Sat. Fat per serving

29 mg
Sodium per serving
View Full Nutrition Info
Directions
Tip: Click on step to mark as complete.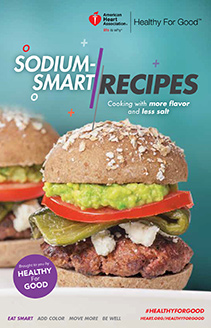 Like the Recipe? It and Many Others are Available in the Cookbook Below:
Sodium Smart Recipe Magazine
Copyright © 2018 American Heart Association, Healthy For GoodTM, heart.org/healthyforgood
Calories
413
Total Fat
4.5 g
Saturated Fat
1.0 g
Trans Fat
0.0 g
Polyunsaturated Fat
1.0 g
Monounsaturated Fat
2.5 g
Cholesterol
0 mg
Sodium
29 mg
Total Carbohydrate
83 g
Dietary Fiber
8 g
Sugars
11 g
Protein
15 g
Dietary Exchanges
5 1/2 starch, 1/2 lean meat
Please sign in to add recipes to your Recipe Box.
Log In