Creole Red Bean Ratatouille
Ratatouille is a classic vegetable dish from the Provence region of France. Our Creole-inspired version includes red kidney beans and whole-grain penne to add protein and fiber.
Ingredients
4 Servings
collapse
Quick Tips

Tip: Serving size 1 cup ratatouille and 1/2 cup pasta
Directions
Tip: Click on step to mark as complete.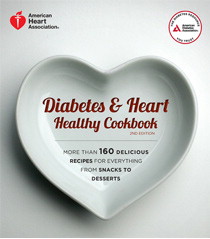 Like the Recipe? It and Many Others are Available in the Cookbook Below:
Diabetes & Heart Healthy Cookbook
Calories
280
Total Fat
7 g
Saturated Fat
2 g
Trans Fat
0 g
Polyunsaturated Fat
1 g
Monounsaturated Fat
3 g
Cholesterol
5 mg
Sodium
370 mg
Potassium
740 mg
Total Carbohydrate
41 g
Dietary Fiber
10 g
Sugars
7 g
Protein
15 g
Dietary Exchanges
2 starch, 2 vegetable, 1 medium-fat meat
Please sign in to add recipes to your Recipe Box.
Log In