Salmon Baked with Cucumbers and Dill
Cucumbers, red onion, dill, and lemon are traditional accompaniments for smoked salmon, but they're just as delectable when baked with fresh fillets. Serve this with brown rice, quinoa, or the whole grain of your choice.
Ingredients
4 Servings

200
Calories per serving

1.5 g
Sat. Fat per serving

165 mg
Sodium per serving
View Full Nutrition Info
Directions
Tip: Click on step to mark as complete.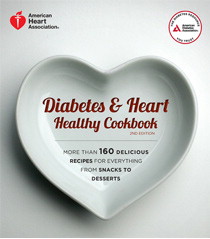 Like the Recipe? It and Many Others are Available in the Cookbook Below:
Diabetes & Heart Healthy Cookbook
Calories
200
Total Fat
7 g
Saturated Fat
1.5 g
Trans Fat
0 g
Polyunsaturated Fat
2.5 g
Monounsaturated Fat
2.5 g
Cholesterol
50 mg
Sodium
165 mg
Potassium
805 mg
Total Carbohydrate
6 g
Dietary Fiber
2 g
Sugars
3 g
Protein
26 g
Dietary Exchanges
1 vegetable, 4 lean meat
Please sign in to add recipes to your Recipe Box.
Log In