Shrimp Tacos - Delicious Decisions
Tasty seafood tacos are all the rage, and since you can buy peeled and deveined shrimp either fresh or frozen, these are super-easy to prepare.
Ingredients
4 Servings

206
Calories per serving

0.5 g
Sat. Fat per serving

308 mg
Sodium per serving
View Full Nutrition Info
collapse
Quick Tips

Keep it Healthy:
Shrimp are relatively high in cholesterol, but they are also very low in harmful saturated fat. Even if you're watching your cholesterol, you can still occasionally enjoy shellfish, including shrimp, as part of a balanced diet.

Tip: Make it a meal with bottled salsa (lowest sodium available) with raw veggie dippers and instant brown rice seasoned with turmeric.


Directions
Tip: Click on step to mark as complete.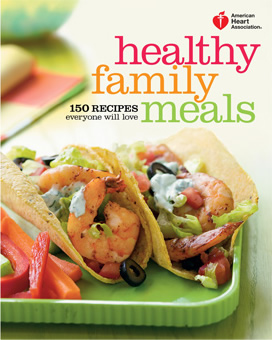 Like the Recipe? It and Many Others are Available in the Cookbook Below:
American Heart Association Healthy Family Meals
Calories
206
Total Fat
3.5 g
Saturated Fat
0.5 g
Trans Fat
0.0 g
Polyunsaturated Fat
1.0 g
Monounsaturated Fat
1.5 g
Cholesterol
173 mg
Sodium
308 mg
Total Carbohydrate
21 g
Dietary Fiber
2 g
Sugars
4 g
Protein
22 g
Dietary Exchanges
1 1/2 starch, 3 very lean meat
Please sign in to add recipes to your Recipe Box.
Log In