Black Bean Burgers with Mustard Potato Salad
Who says cookouts can't be healthy? Replace your burgers with this American, Simple Cooking with Heart meat-free option that will delight even a hardcore carnivore.
Ingredients
6 Servings
For the Mustard Potato Salad:
For the Black Bean Burgers:
25 min
Total time

1.82
Price per serving

374
Calories per serving

0.8 g
Sat. Fat per serving

280 mg
Sodium per serving
View Full Nutrition Info
collapse
Quick Tips

Tip: Serving size 1 burger + 1 1/3 cup potato salad

Cooking Tip: When dealing with a wet batter like the black bean burgers being formed into an oval shape, dip your hands in cold water to prevent the batter from sticking to your hands.

Keep it Healthy: Play around with the black burger recipe, substituting different grains like couscous or quinoa and beans like kidney or cannellini, even adding nuts into the mix if desired.

Tip: Waxy potatoes such as new potatoes or red potatoes hold their shape the best, making them ideal for cold dishes like potato salad.
Directions
Tip: Click on step to mark as complete.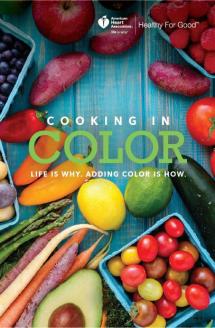 Like the Recipe? It and Many Others are Available in the Cookbook Below:
Purchase Cooking in Color
Copyright © 2018 American Heart Association, Healthy For GoodTM, heart.org/healthyforgood Every purchase helps fund the work of the AHA/ASA.
Calories
374
Total Fat
10.4 g
Saturated Fat
0.8 g
Trans Fat
0.0 g
Polyunsaturated Fat
2.8 g
Monounsaturated Fat
6.0 g
Cholesterol
0 mg
Sodium
280 mg
Total Carbohydrate
61 g
Dietary Fiber
9 g
Sugars
7 g
Protein
10 g
Dietary Exchanges
4 starch, 2 fat, 1 lean meat
Please sign in to add recipes to your Recipe Box.
Log In