Espresso Minute Steaks - Delicious Decisions
Minute steaks, thin cuts of round steak, actually take about a minute and a half to cook. Talk about fast! A coffee-based reduction adds boldness to the dish.


Ingredients
4 Servings

158
Calories per serving

1.0 g
Sat. Fat per serving

219 mg
Sodium per serving
View Full Nutrition Info
collapse
Quick Tips

Tip: Cooking the steaks in two batches ensures that they have more room and thus will brown, not stew.


Directions
Tip: Click on step to mark as complete.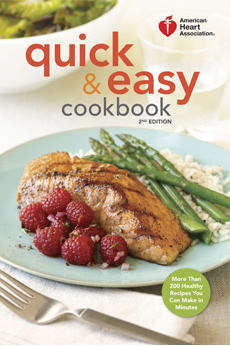 Like the Recipe? It and Many Others are Available in the Cookbook Below:
American Heart Association Quick & Easy Cookbook, 2nd Edition
Calories
158
Total Fat
5.0 g
Saturated Fat
1.0 g
Trans Fat
0.0 g
Polyunsaturated Fat
1.0 g
Monounsaturated Fat
2.5 g
Cholesterol
58 mg
Sodium
219 mg
Total Carbohydrate
1 g
Dietary Fiber
0 g
Sugars
1 g
Protein
26 g
Dietary Exchanges
3 lean meat
Please sign in to add recipes to your Recipe Box.
Log In