Tuna-Stuffed Avocados with Corn Salsa
An avocado half is the perfect vessel to serve tuna salad, creating a striking presentation. To prevent the corn salsa from tumbling off, it is mixed into the tuna.
Ingredients
6 Servings
For the Salsa:
For the Tuna:

273
Calories per serving

2.3 g
Sat. Fat per serving

292 mg
Sodium per serving
View Full Nutrition Info
collapse
Quick Tips

Cooking Tip: 1 cup frozen corn can be substituted for the fresh corn. Just add into the heatproof container with 1 tablespoon water and cook; drain liquid before using. Also, 3 (5-ounce) cans of tuna in water can be substituted for the 12.5-ounce package; just make sure to drain the water.

Keep it Healthy: Avocados are a versatile, healthy fruit to have on hand. However, it can be tricky getting them ripe when you want to devour them. When ripening is needed quickly, add avocados into a paper bag with a banana and seal. Let sit overnight to quicken the ripening process.

Tip: Prefer to eat your tuna salad cold? Keep the tuna pouch or cans in the refrigerator before use so it's already chilled; the same can also be done with the ripe avocados.
Directions
Tip: Click on step to mark as complete.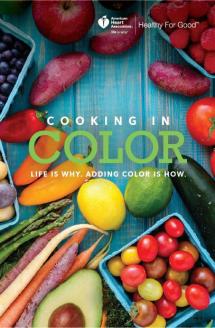 Like the Recipe? It and Many Others are Available in the Cookbook Below:
Purchase Cooking in Color
Copyright © 2018 American Heart Association, Healthy For GoodTM, heart.org/healthyforgood Every purchase helps fund the work of the AHA/ASA.
Calories
273
Total Fat
15.8 g
Saturated Fat
2.3 g
Trans Fat
0.0 g
Polyunsaturated Fat
2.2 g
Monounsaturated Fat
10.1 g
Cholesterol
31.9 mg
Sodium
292 mg
Potassium
0.0 mg
Total Carbohydrate
18.2 g
Dietary Fiber
8.0 g
Sugars
4.5 g
Added Sugars
0.0 g
Protein
18.6 g
Calcium
0.0 mg
Dietary Exchanges
2 fat, 2 lean meat, 1/2 starch, 2 vegetable
Please sign in to add recipes to your Recipe Box.
Log In