Avocado-Green Tea Popsicle
This grown-up popsicle is made creamy from the combination of avocado and yogurt. It tastes indulgent without many calories attached to it.
Ingredients
6 Servings

106.7
Calories per serving

0.8 g
Sat. Fat per serving

27.2 mg
Sodium per serving
View Full Nutrition Info
collapse
Quick Tips

Keep it Healthy: Trying to reduce sugar intake? Adding a banana or other ripe fruit, like in this popsicle recipe, is a smart way to add sweetness.

Cooking Tip: Matcha is a finely powdered green tea loaded with many antioxidants, often found at health food stores, if not in the tea aisle of the grocery store. Consider adding 1 to 2 teaspoons into a morning smoothie or make an afternoon drink of fat-free milk, matcha powder, and ice in the blender.

Tip: Add a little ice into this recipe to turn this into a smoothie for 2. Or, sprinkle a little granola into the popsicle molds before filling with the base to make this into a breakfast popsicle.
Directions
Tip: Click on step to mark as complete.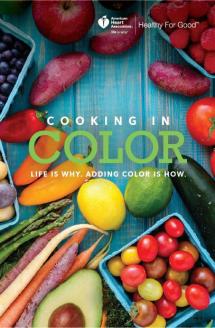 Like the Recipe? It and Many Others are Available in the Cookbook Below:
Purchase Cooking in Color
Copyright © 2018 American Heart Association, Healthy For GoodTM, heart.org/healthyforgood Every purchase helps fund the work of the AHA/ASA.
Calories
106.7
Total Fat
5 g
Saturated Fat
0.8 g
Trans Fat
0.0 g
Polyunsaturated Fat
0.6 g
Monounsaturated Fat
3.3 g
Cholesterol
0.8 mg
Sodium
27.2 mg
Total Carbohydrate
13.2 g
Dietary Fiber
2.8 g
Sugars
8.3 g
Protein
4 g
Dietary Exchanges
1 other carbohydrate, 1/2 lean meat, 1/2 fat
Please sign in to add recipes to your Recipe Box.
Log In