Chilled Zucchini and Avocado Soup with Cucumber Salsa
This cold, smooth summer soup is brought to life with a bright, crunchy salsa. While the soup can also be served at room temperature, if you're in a hurry to chill, ladle into 4 serving bowls and place them all in the freezer for 20 minutes for a quick fix. Yield: 4 servings (1 cup soup + ½ cup salsa)
Ingredients
4 Servings
collapse
Quick Tips

Cooking Tip: When cooking the onions and zucchini, lower the heat to medium and cook longer to caramelize them. While not necessary, it adds a certain sweetness to the soup if time allows.

Keep it Healthy: Low-fat buttermilk is a good ingredient to have on hand, adding tang and richness without fat to a variety of dishes, from smoothies to soups to baked goods.

Tip: Not a fan of cilantro? Just add chopped parsley into the salsa instead.
Directions
Tip: Click on step to mark as complete.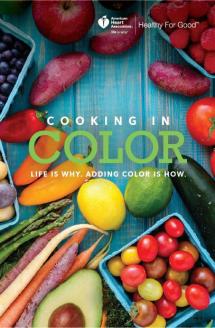 Like the Recipe? It and Many Others are Available in the Cookbook Below:
Purchase Cooking in Color
Copyright © 2018 American Heart Association, Healthy For GoodTM, heart.org/healthyforgood Every purchase helps fund the work of the AHA/ASA.
Calories
164
Total Fat
8.4 g
Saturated Fat
1.4 g
Trans Fat
0.0 g
Polyunsaturated Fat
1.1 g
Monounsaturated Fat
5.0 g
Cholesterol
1.2 mg
Sodium
137 mg
Potassium
0 mg
Total Carbohydrate
21 g
Dietary Fiber
6.9 g
Sugars
10.4 g
Added Sugars
0 g
Protein
5.8 g
Calcium
0 mg
Dietary Exchanges
1 1/2 fat, 4 vegetable
Please sign in to add recipes to your Recipe Box.
Log In