Grilled Cuban Mojo Marinated Pork Tenderloin with Fried Plantains
When ordered in a restaurant, sweet plantains are delicious but swimming in a pool of oil. This recipe bypasses the frying step, letting the oven create plantains that are slightly caramelized and chewy without all the additional fat. Mojo is a classic Cuban sauce used as a marinade in this recipe.
Ingredients
4 Servings
collapse
Quick Tips

Keep it Healthy: Pork tenderloin is such a lean cut of meat that soaking it in a flavorful marinade, like the mojo, keeps it moist and tender.

Cooking Tip: When purchasing plantains, look for plantains that are yellow- and black-spotted, a perfect sign of ripeness.

Tip: No grill? No problem. Just cook the pork tenderloin in the oven with the plantains. Follow directions above as far as wiping marinade off pork tenderloin and seasoning it. In large sauté pan over high heat, warm 2 teaspoons canola oil over high heat. Add pork to sauté pan, cooking on each side until golden brown, about 5 minutes total. Transfer pork tenderloin in sauté pan or onto a baking sheet into the 450°F oven with the plantains. Cook pork until a meat thermometer registers 145°, about 15 to 20 minutes.
Directions
Tip: Click on step to mark as complete.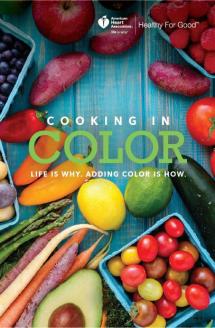 Like the Recipe? It and Many Others are Available in the Cookbook Below:
Purchase Cooking in Color
Copyright © 2018 American Heart Association, Healthy For GoodTM, heart.org/healthyforgood Every purchase helps fund the work of the AHA/ASA.
Calories
317
Total Fat
11 g
Saturated Fat
1.9 g
Trans Fat
0.1 g
Polyunsaturated Fat
2.5 g
Monounsaturated Fat
5.8 g
Cholesterol
74.5 mg
Sodium
135 mg
Potassium
0 mg
Total Carbohydrate
28.6 g
Dietary Fiber
2.1 g
Sugars
13.4 g
Added Sugars
0 g
Protein
27.9 g
Dietary Exchanges
2 fruit, 4 lean meat
Please sign in to add recipes to your Recipe Box.
Log In