Tomato Basil Soup
For just a little longer than it takes to bring a can of tomato soup to a boil, whip up this tomato soup that is much lower in sodium—and much tastier too. The addition of fresh basil bumps the flavor of this soup up a notch.
Ingredients
6 Servings

1 cup
Serving size

78.7
Calories per serving

0.1 g
Sat. Fat per serving

212 mg
Sodium per serving
View Full Nutrition Info
collapse
Quick Tips

Cooking Tip: Don't have fresh basil? Just stir in 2 teaspoons dried basil at the start of the recipe, along with the garlic powder.

Keep it Healthy: Many canned tomatoes are packed with extra sodium; make sure to look on the label for tomatoes with no salt added.

Tip: Stirring in a touch of baking soda into the soup once it is off the heat is a trick to reduce the acidity from the tomatoes—just a tiny step that greatly improves the soup's flavor.
Directions
Tip: Click on step to mark as complete.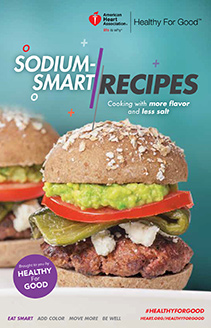 Like the Recipe? It and Many Others are Available in the Cookbook Below:
Sodium Smart Recipe Magazine
Copyright © 2018 American Heart Association, Healthy For GoodTM, heart.org/healthyforgood
Calories
78.7
Total Fat
0.1 g
Saturated Fat
0.1 g
Trans Fat
0.0 g
Polyunsaturated Fat
0.0 g
Monounsaturated Fat
0.0 g
Cholesterol
1.6 mg
Sodium
212 mg
Potassium
0 mg
Total Carbohydrate
14 g
Dietary Fiber
1.8 g
Sugars
10.4 g
Added Sugars
0 g
Protein
4.7 g
Calcium
0 mg
Dietary Exchanges
1/2 fat-free milk, 2 vegetable
Please sign in to add recipes to your Recipe Box.
Log In