Banana Bread Smoothie
Banana bread in smoothie form gives a touch of sweetness—due to a drop of maple syrup and the bananas—as a perfect end to a meal.
Ingredients
2 Servings

1 1/4
Serving size

186
Calories per serving

0.3 g
Sat. Fat per serving

51.5 mg
Sodium per serving
View Full Nutrition Info
collapse
Quick Tips

Cooking Tip: Frozen banana can be used instead of fresh; just decrease the quantity of ice.

Keep it Healthy: To turn this into a protein-packed breakfast, use 3/4 cup plain fat-free Greek yogurt (which contains more protein that regular yogurt) and decrease the amount of milk down to 1/4 cup. Also, increase the oats to 1/2 cup for more fiber.

Tip: Investing in vanilla paste—which is a more intense version of vanilla extract—is an easy way to add more flavor into recipes without an increase in calories.
Directions
Tip: Click on step to mark as complete.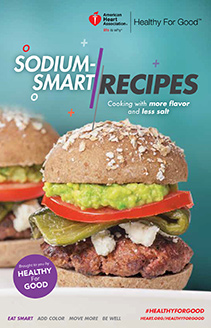 Like the Recipe? It and Many Others are Available in the Cookbook Below:
Sodium Smart Recipe Magazine
Copyright © 2018 American Heart Association, Healthy For GoodTM, heart.org/healthyforgood
Calories
186
Total Fat
0.9 g
Saturated Fat
0.3 g
Trans Fat
0.0 g
Polyunsaturated Fat
0.2 g
Monounsaturated Fat
0.2 g
Cholesterol
1.8 mg
Sodium
51.5 mg
Total Carbohydrate
40.7 g
Dietary Fiber
3.7 g
Sugars
24.7 g
Protein
5.7 g
Dietary Exchanges
1/2 fat-free milk, 2 fruit, 1/2 other carbohydrate
Please sign in to add recipes to your Recipe Box.
Log In