Broccoli and Cheese Egg White Scramble on Whole-Wheat English Muffin
This egg white scramble is a great way to get vitamin-packed broccoli onto your breakfast table. If you're pressed for time in the morning, buy a package of broccoli florets in the produce section instead of starting with a whole head of broccoli.
Ingredients
4 Servings

139
Calories per serving

0.1 g
Sat. Fat per serving

338 mg
Sodium per serving
View Full Nutrition Info
collapse
Quick Tips

Cooking Tip: The secret to not overcooking scrambled eggs is to remove the eggs from the heat slightly before being done. The eggs will cook another minute from the carryover heat.

Keep it Healthy: Broccoli isn't the only vegetable that can be used in this recipe. Any vegetables hanging out in your fridge—think red peppers, green beans, zucchini—can be used instead. Just finely chop them to keep within the cooking time.

Tip: Substitute corn tortillas for English muffins to easily turn this into breakfast tacos. Even consider sautéing 1 chopped tomato and 1 chopped jalapeno with the broccoli for a more Mexican touch to the taco.
Directions
Tip: Click on step to mark as complete.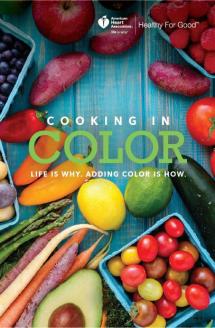 Like the Recipe? It and Many Others are Available in the Cookbook Below:
Purchase Cooking in Color
Copyright © 2018 American Heart Association, Healthy For GoodTM, heart.org/healthyforgood Every purchase helps fund the work of the AHA/ASA.
Calories
139
Total Fat
1.0 g
Saturated Fat
0.1 g
Trans Fat
0.0 g
Polyunsaturated Fat
0,3 g
Monounsaturated Fat
0,2 g
Cholesterol
1.9 mg
Sodium
338 mg
Total Carbohydrate
18.0 g
Dietary Fiber
3.1 g
Sugars
5.3 g
Protein
15.3 g
Dietary Exchanges
2 lean meat, 1 starch
Please sign in to add recipes to your Recipe Box.
Log In