Vietnamese Broiled Cod with Asparagus Peas and Water Chestnut Stir Fry
The brightness of the ginger and the pungency of the oyster sauce bring a lot of flavor to the delicate cod in this Vietnamese -inspired creation.
Ingredients
4 Servings
collapse
Quick Tips

Cooking Tip: If needed, add a few more tablespoons of water to the vegetable stir-fry if the marinade looks like it might burn while sauteing.

Keep it Healthy: Broiling requires less oil than sauteing fish on the stovetop while also adding a bit of tasty char to the fish.

Tip: Other firm white-fleshed fish, like halibut or sea bass, can be substituted for the cod.
Directions
Tip: Click on step to mark as complete.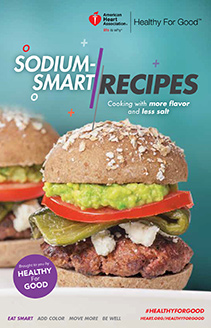 Like the Recipe? It and Many Others are Available in the Cookbook Below:
Sodium Smart Recipe Magazine
Copyright © 2018 American Heart Association, Healthy For GoodTM, heart.org/healthyforgood
Calories
302
Total Fat
3.5 g
Saturated Fat
0.4 g
Trans Fat
0.0 g
Polyunsaturated Fat
1.0 g
Monounsaturated Fat
1.3 g
Cholesterol
73.1 mg
Sodium
538 mg
Total Carbohydrate
29.0 g
Dietary Fiber
10.4 g
Sugars
9.1 g
Protein
39.0 g
Dietary Exchanges
5 lean meat, 1 starch, 3 vegetable
Please sign in to add recipes to your Recipe Box.
Log In