Teriyaki Salmon with Cauliflower Rice
Easy enough to pull off for a weeknight meal, the salmon layered onto the cauliflower rice is also impressive enough in looks and taste to serve for company. Better yet, the salmon is heart-healthy and the fluffy cauliflower soaks up the soy sauce.
Ingredients
4 Servings
collapse
Quick Tips

Cooking Tip: Using a Microplane is one of the quickest ways to take peeled garlic and ginger and grate it into a mince.

Keep it Healthy: Confused by the salmon choices at the seafood counter? Remember that wild salmon not only has less calories than farm-raised salmon but also has almost half the amount of saturated fat.

Tip: This teriyaki marinade can be used for other protein, like chicken breasts. Add marinade and 1 1/4 pounds thinly sliced skinless, boneless chicken breasts into a Ziploc bag. Marinate in the refrigerator for a few hours. Warm a large nonstick pan over medium-high heat, adding chicken, marinade, and 1/3 cup water. Saute chicken, turning frequently, until fully-cooked, about 6 to 7 minutes.
Directions
Tip: Click on step to mark as complete.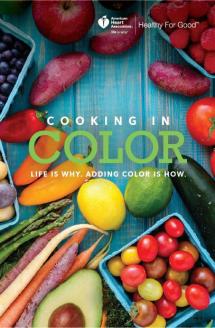 Like the Recipe? It and Many Others are Available in the Cookbook Below:
Purchase Cooking in Color
Copyright © 2018 American Heart Association, Healthy For GoodTM, heart.org/healthyforgood Every purchase helps fund the work of the AHA/ASA.
Calories
311
Total Fat
13.0 g
Saturated Fat
2.1 g
Trans Fat
0.1 g
Polyunsaturated Fat
3.4 g
Monounsaturated Fat
4.6 g
Cholesterol
79.5 mg
Sodium
430 mg
Potassium
0.0 mg
Total Carbohydrate
9.0 g
Dietary Fiber
2.9 g
Sugars
4.4 g
Added Sugars
0.0 g
Protein
38.2 g
Calcium
0.0 mg
Dietary Exchanges
5 lean meat, 2 vegetable
Please sign in to add recipes to your Recipe Box.
Log In