Try this classic Simple Cooking with Heart chili recipe that's good for your heart. It's ready in 30 minutes!
Nutrition Facts
Tailgate Chili

Calories
297 Per Serving
Protein
31g Per Serving
Fiber
7g Per Serving
Cost Per Serving
$3.44
Nutrition Facts
×
Calories
297
Total Fat
6.0 g
Saturated Fat
2.5 g
Trans Fat
0.5 g
Polyunsaturated Fat
0.5 g
Monounsaturated Fat
2.5 g
Cholesterol
62 mg
Sodium
288 mg
Total Carbohydrate
29 g
Dietary Fiber
7 g
Sugars
8 g
Protein
31 g
Dietary Exchanges
1 starch, 3 1/2 lean meat, 3 vegetable
Ingredients
1 lb. 95% lean ground beef (or ground white meat chicken or turkey for a healthier option)
1 medium onion (chopped)
1 medium green bell pepper (chopped)
1 medium jalapeño (optional, only if you like spicy chili), chopped
4 clove minced, fresh garlic

OR

2 tsp. jarred, minced garlic
1 Tbsp. chili powder
1 Tbsp. ground cumin
1/2 tsp. ground coriander
15.5 oz. canned, no-salt-added or low-sodium pinto or kidney beans, rinsed, drained
14.5 oz. canned, no-salt-added, or, low-sodium, diced tomatoes (undrained)
3/4 cup jarred salsa (lowest sodium available)
Directions
Spray large saucepan with cooking spray. Cook beef and onion over medium-high heat for 5-7 minutes, stirring constantly to break up beef. Transfer to colander and rinse with water to drain excess fat. Return beef to pan.
Stir in bell pepper, garlic, chili powder, and cumin, and cook for 5 minutes, stirring occasionally.
Add remaining ingredients and bring to a boil. Reduce to simmer, cover and cook for 20 minutes.
Optional – serve topped with low-fat grated cheese, a dollop of fat-free sour cream, sliced avocado, snipped cilantro or chopped green onions.
Tip: if you want 5-alarm chili, add 1 teaspoon cayenne pepper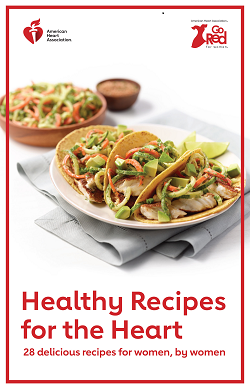 Healthy Recipes for the Heart
This digest-size recipe booklet contains 28 recipes, including Baked Flautas, Carne Asada with Chimichurri Sauce, Macaroni and Cheese with Spinach, Vegetable Migas, Jerk Tilapia Tacos with Zoodle Slaw, and Slow Cooker Thai Chicken Soup; blood pressure info and AHA recommended blood pressure levels; Blood Pressure Measurement Instruction infographic; an inspiring personal story shared by a GR Real Woman; full-color interior and photos; glossy cover; AHA dietary and lifestyle recommendations; Go Red Get Fit info; updated messaging and info about GRFW; and warning signs for heart attack and stroke.
Shop Heart