These Asian wrappers are rolled tightly, packing lots of freshness on the inside from herbs, fruit, and vegetables.
Nutrition Facts
Avocado and Shrimp Spring Roll

Calories
170 Per Serving
Protein
7g Per Serving
Fiber
9g Per Serving
Nutrition Facts
×
Calories
170
Total Fat
6.4 g
Saturated Fat
1.0 g
Trans Fat
0 g
Polyunsaturated Fat
1.0 g
Monounsaturated Fat
3.7 g
Cholesterol
30 mg
Sodium
46 mg
Total Carbohydrate
23 g
Dietary Fiber
9 g
Sugars
8 g
Protein
7 g
Dietary Exchanges
1/2 starch, 1/2 fruit, 1 vegetable, 1/2 lean meat, 1 fat
Ingredients
1 ounces dried rice noodles
1 tablespoon peanut sauce
4 12-inch Vietnamese salad roll wrappers
3 oz cooked and peeled shrimp, without tails, cut in half lengthwise
1 medium avocado (halved, cut into 12 slices)
1 medium mango, julienned into 12 pieces
1 cup red leaf lettuce
1/4 cup tightly packed, fresh Thai basil (torn)
1/4 cup tightly packed, fresh mint (torn)
1 ounces packaged radish sprouts
Directions
Bring a small pot of water to a boil over high heat. Place the rice noodles in a small, heat-resistant bowl. Pour in boiling water to cover them. Let stand until softened, about 4 minutes. Transfer the noodles to a fine-mesh sieve. Drain well. Transfer to a small bowl. Stir in the peanut sauce. Set aside.
Fill a large container (big enough to fit the salad roll wrapper) with warm water. Working with 1 wrapper at a time, soak the wrapper in the water until just pliable but not limp, about 30 seconds. Transfer to a work surface. On the wrapper, layer as follows: the shrimp, avocado, mango, lettuce, basil, mint, and sprouts. Top with the rice noodles. Fold the bottom of the wrapper over the filling. Fold in the ends, rolling like a burrito into a tight cylinder.
Transfer the rolls with the seam side down to a plate. Cover with a damp kitchen towel and refrigerate.
To serve, cut the rolls into thirds using a wet knife. Transfer to a serving platter.
Tip: Wood surfaces are best when working with salad roll wrappers. They tend to stick to plastic cutting boards.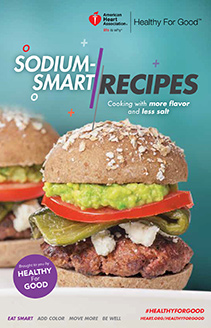 Sodium-Smart Recipes
This digest-sized booklet contains 28 recipes and photographs. It also contains information on how sodium affects overall health, a reference guide for sodium-free flavorings and provides American Heart Association's dietary recommendations.
Shop Heart