Banana bread in smoothie form gives a touch of sweetness—due to a drop of maple syrup and the bananas—as a perfect end to a meal.
Nutrition Facts
Banana Bread Smoothie

Calories
186 Per Serving
Protein
5.7g Per Serving
Fiber
3.7g Per Serving
Nutrition Facts
×
Calories
186
Total Fat
0.9 g
Saturated Fat
0.3 g
Trans Fat
0.0 g
Polyunsaturated Fat
0.2 g
Monounsaturated Fat
0.2 g
Cholesterol
1.8 mg
Sodium
51.5 mg
Total Carbohydrate
40.7 g
Dietary Fiber
3.7 g
Sugars
24.7 g
Protein
5.7 g
Dietary Exchanges
2 fruit, 1/2 fat-free milk, 1/2 other carbohydrate
Ingredients
2 medium bananas (peeled, sliced)
2 tablespoons old-fashioned oats
1/2 cup fat-free milk
1/4 cup plain non-fat yogurt
2 teaspoons maple syrup
1 teaspoon vanilla extract
1/4 teaspoon ground cinnamon, plus more if desired for garnish
1 1/2 cups ice cubes
1 tablespoon finely chopped unsalted pecans or walnuts (optional)
Directions
Peel the banana and slice it. Add banana into the blender with oats, milk, yogurt, maple syrup, extract, cinnamon, and ice cubes.
Pulse ingredients in the blender until smooth.
Pour into 2 glasses, garnish with nuts and additional cinnamon, if desired. Serve immediately.
Cooking Tip: Frozen banana can be used instead of fresh; just decrease the quantity of ice.
Keep it Healthy: To turn this into a protein-packed breakfast, use 3/4 cup plain fat-free Greek yogurt (which contains more protein that regular yogurt) and decrease the amount of milk down to 1/4 cup. Also, increase the oats to 1/2 cup for more fiber.
Tip: Investing in vanilla paste—which is a more intense version of vanilla extract—is an easy way to add more flavor into recipes without an increase in calories.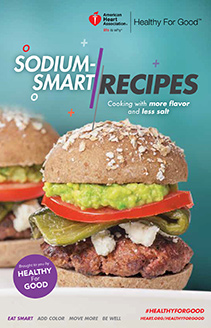 Sodium-Smart Recipes
This digest-sized booklet contains 28 recipes and photographs. It also contains information on how sodium affects overall health, a reference guide for sodium-free flavorings and provides American Heart Association's dietary recommendations.
Shop Heart