Granola bars aren't just easy to make, they can also be sculpted based on your tastes. Add anything from sunflower seeds to flaked unsweetened coconut to a variety of nuts and nut butters. Even a tablespoon or two of chocolate chips can be thrown into the mix to entice kids.
Nutrition Facts
Berry Nuts Granola Bars

Calories
180 Per Serving
Protein
5.4g Per Serving
Fiber
4.2g Per Serving
Nutrition Facts
×
Calories
180
Total Fat
9.0 g
Saturated Fat
1.1 g
Trans Fat
0.0 g
Polyunsaturated Fat
2.2 g
Monounsaturated Fat
4.3 g
Cholesterol
0.0 mg
Sodium
56.5 mg
Total Carbohydrate
21.5 g
Dietary Fiber
4.2 g
Sugars
6.7 g
Protein
5.4 g
Dietary Exchanges
1 starch, 1/2 other carbohydrate, 1 1/2 fat
Ingredients
1 cup dried, unsweetened cranberries
2 cups old-fashioned oats, divided
1/2 cup sliced, unsalted almonds
1/4 cup flax seeds
pinch salt
2 tablespoon canola oil
1/4 cup maple syrup
1/3 cup reduced-fat peanut butter
Directions
Preheat the oven to 325 degrees F. Prepare an 8-inch by 8-inch baking dish by lining by it with parchment paper.
In the bowl of a food processor, add cranberries; process until the cranberries are chopped a bit, about 30 seconds to 1 minute. Add 1 cup of oats; continue to puree until oats are a flour-like consistency. Transfer mixture to a large bowl.
Into the bowl, add remaining 1 cup oats, almonds, flax seeds, and salt. Stir together to combine.
In a heatproof container, add oil, maple syrup, and nut butter. Warm in the microwave until the nut butter is soft and pliable, around 30 seconds to 1 minute. Stir mixture together with a spoon until smooth.
Pour nut butter mixture over oat mixture. Use a spatula to thoroughly combine. Transfer to the prepared baking dish. Wet your hands and press down on the mixture to help it stick together.
Cook in the oven for 30 minutes. Remove and let cool slightly. Press down on mixture again to stick together. Cover the top with plastic wrap and place in the refrigerator at least a few hours (or preferably overnight) to harden.
Lift parchment paper from baking dish. Use a serrated knife and cut the granola bars into 12 pieces. Serve or transfer to an airtight container for 1 week.
Cooking Tip: When measuring sticky items like maple syrup or honey, coat the measuring cup with cooking spray first so the honey or maple syrup comes out easily.
Keep it Healthy: Experiment with a variety of nuts and nut butters in this recipe. Also, honey can be subbed for maple syrup.
Tip: Unsweetened freeze-dried fruit can be substituted for dried cranberries. Roughly chop 1 cup freeze-dried blueberries and/ or strawberries and fold into the granola bar mixture right at the end before pouring into the pan.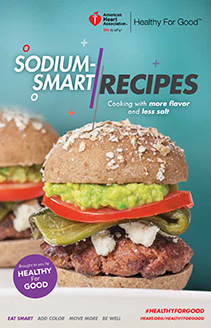 Sodium-Smart Recipes
This digest-sized booklet contains 28 recipes and photographs. It also contains information on how sodium affects overall health, a reference guide for sodium-free flavorings and provides American Heart Association's dietary recommendations.
Shop Heart