These pantry-friendly granola bars are perfect for a grab-and-go breakfast or snack.
Nutrition Facts
Berry Nuts Granola Bars

Calories
180 Per Serving
Protein
5g Per Serving
Fiber
4g Per Serving
Nutrition Facts
×
Calories
180
Total Fat
9.0 g
Saturated Fat
1.0 g
Trans Fat
0.0 g
Polyunsaturated Fat
2.0 g
Monounsaturated Fat
4.5 g
Cholesterol
0 mg
Sodium
57 mg
Total Carbohydrate
22 g
Dietary Fiber
4 g
Sugars
7 g
Protein
5 g
Dietary Exchanges
1 starch, 1/2 other carbohydrate, 1 1/2 fat
Ingredients
1 cup old-fashioned oats and 1 cup old-fashioned oats, divided use
1 cup dried unsweetened cranberries
1/2 cup sliced unsalted almonds
1/4 cup flax seeds
1/16 teaspoon salt (a pinch)
1/3 cup low-sodium peanut butter
1/4 cup pure maple syrup
2 tablespoons canola or corn oil
Directions
Preheat the oven to 325˚F. Line an 8 x 8 x 2-inch square baking dish with parchment paper, letting it hang over the edges.
In a food processor or blender, process 1 cup oats until flour-like in consistency. Add the cranberries. Process for 30 seconds to 1 minute. Transfer the mixture to a large bowl.
Stir in the remaining 1 cup oats, almonds, flax seeds, and salt.
Put the peanut butter, maple syrup, and oil in a small microwaveable bowl. Microwave on 100% power (high) for 30 seconds to 1 minute, or until the peanut butter is soft and pliable. Stir the mixture until smooth.
Pour the peanut butter mixture over the oat mixture, stirring until thoroughly combined. Transfer to the baking dish. Using wet hands, press down on the mixture to flatten it in the dish.
Bake for 30 minutes. Transfer the baking dish to a cooling rack and let cool slightly. While cooling, press down on the mixture to help it set. Cover and refrigerate for at least 2 hours to overnight to harden.
Remove the dish from the refrigerator. Transfer to a cutting board. Lift the parchment paper and slide the granola mixture onto the board. Using a serrated knife, cut into 12 squares. Serve immediately or transfer to an airtight container and refrigerate for up to one week.
Cooking Tip: When measuring sticky "stuff" like maple syrup, honey, or peanut butter, coat the measuring cup or spoon with cooking spray first so the ingredient comes out or off easily.
Keep it Healthy: You can substitute the peanut butter for another nut butter, such as almond butter. You can use honey in place of the maple syrup.
Tip: Unsweetened freeze-dried fruit can be substituted for dried cranberries. To do this, coarsely chop 1 cup freeze-dried blueberries and/or strawberries. Fold into the oat mixture before pouring it into the pan.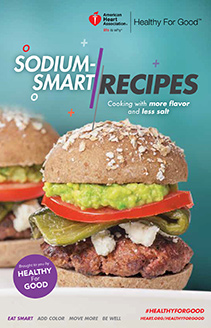 Sodium-Smart Recipes
This digest-sized booklet contains 28 recipes and photographs. It also contains information on how sodium affects overall health, a reference guide for sodium-free flavorings and provides American Heart Association's dietary recommendations.
Shop Heart