If you do the apple slicing, kids can get in on the action and assemble these nachos themselves. Use your favorite apple variety for this Simple Cooking with Heart snack or appetizer recipe or mix it up using a combination, like 2 sweet Red Delicious apples and 1 tart Granny Smith.
Nutrition Facts
Apple Nachos

Calories
167 Per Serving
Protein
4g Per Serving
Fiber
4g Per Serving
Cost Per Serving
$1.32
Nutrition Facts
×
Calories
167
Total Fat
7.5 g
Saturated Fat
1.0 g
Trans Fat
0.0 g
Polyunsaturated Fat
2.5 g
Monounsaturated Fat
3.5 g
Cholesterol
0 mg
Sodium
66 mg
Total Carbohydrate
22 g
Dietary Fiber
4 g
Sugars
15 g
Protein
4 g
Dietary Exchanges
1 fat, 1/2 lean meat, 1 1/2 fruit
Ingredients
1/3 cup dried, unsweetened cranberries or raisins
1/4 cup sliced, unsalted almonds
2 tablespoons unsalted, shelled sunflower seeds
3 red or green apples, cored and thinly sliced into about 12 wedges each
1-2 teaspoons fresh lemon juice
2 tablespoons water
1/4 cup smooth, low-sodium peanut butter
1 tablespoon honey
Directions
In a small bowl, stir together the cranberries, almonds, and sunflower seeds.
Layer half the apples on a large plate or platter. Sprinkle the lemon juice over the apples to keep them from browning.
Using a microwaveable bowl, microwave the water on 100% power (high) for 2 minutes, or until boiling (or boil water in your tea kettle and measure 2 tablespoons into a small bowl). Add the peanut butter and honey, stirring until the mixture is smooth.
Using a spoon, drizzle half the peanut butter mixture over the apple wedges. Sprinkle with half the cranberry mixture. Layer the remaining apples over the cranberry mixture. Drizzle the remaining peanut butter mixture over all. Sprinkle the remaining cranberry mixture over all.
Cooking Tip: When using sticky ingredients like honey or peanut butter in a recipe, lightly spray your measuring spoon or cup with cooking spray. The ingredient will slide right out!
Keep it Healthy: Choose unsweetened dried fruit whenever you can to avoid added sugar.
Tip: Be creative when it comes to toppings for these apple nachos: any type of unsweetened, dried fruit, chopped nuts, pumpkin seeds, low-fat granola, or unsweetened shredded coconut.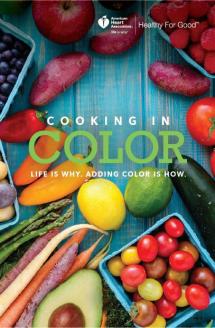 Cooking in Color
This digest-size recipe booklet includes 27 healthful recipes, all including fruits, vegetables, or both. Each recipe is accompanied by a vibrant photograph, and the recipes are organized by color. Also included is a fruit/veggie storage guide and a fruit/veggie equivalency guide.
Shop Heart
Copyright © 2018 American Heart Association, Healthy for Good™. Every purchase helps fund the work of the AHA/ASA.