This Simple Cooking with Heart recipe is a super delicious Latin American dish of grilled meat paired with a flavorful green herb sauce. If your family or you are steak lovers, this is the recipe for you to make!
Nutrition Facts
Carne Asada with Chimichurri Sauce

Calories
217 Per Serving
Protein
28g Per Serving
Fiber
3g Per Serving
Cost Per Serving
$4.26
Nutrition Facts
×
Calories
217
Total Fat
7.1 g
Saturated Fat
2.5 g
Trans Fat
0.2 g
Polyunsaturated Fat
0.6 g
Monounsaturated Fat
3.6 g
Cholesterol
55 mg
Sodium
281 mg
Total Carbohydrate
10 g
Dietary Fiber
3 g
Sugars
5 g
Protein
28 g
Dietary Exchanges
2 vegetable, free, 3 lean meat
Ingredients
For the Carne Asada:
1 1/2 lb strip, skirt, or flank steak (1/2-3/4 inch thick)
1/4 teaspoon salt
1/4 teaspoon ground black pepper
1 pound zucchini (unpeeled, cut into 1/2-inch pieces)
1 pound green beans (ends trimmed, cut in half)
Cooking spray
For the Chimichurri Sauce:
1 1/2 cups flat leaf parsley – wash and remove tough stems, (OK to leave the stems that attach to the leaves) finely chopped
1/2 cup cilantro – wash and remove tough stems, finely chopped
3 clove garlic (minced)
2 tablespoon red wine vinegar
2 teaspoon olive oil
1 teaspoon honey or agave
1 tablespoon water
1 tablespoon crushed red pepper (optional)
1 teaspoon dried oregano
1/4 teaspoon salt
1/4 teaspoon ground black pepper
Directions
Dry the steak with paper towels and season with 1/4 teaspoon of salt and 1/4 teaspoon of black pepper.
Coat a heavy skillet with cooking spray and heat on medium- high heat. When skillet is hot, add the steak, and cook it 2 minutes without turning so it browns.
Using a spatula loosen, lift and flip the steak and cook on the other side for 2 minutes.
Remove the steak from heat and rest under a loose tent of foil for 5 minutes.
While the steak is resting, steam the vegetables.
In a sauce pan with a cover, place 1/4 cup of water and add the zucchini and green beans.
Put the vegetables on high heat and bring to a boil, then lower to low heat and steam for 8-10 minutes. These are done when they are easily pierced with a fork.
Make the Chimichurri sauce by chopping the parsley and cilantro finely, mincing the garlic and combining these in a jar or bowl, with the red wine vinegar, olive oil, water, crushed red pepper (optional), dried oregano, salt and black pepper. Mix well.
Cut meat across the grain into thin strips and place on the plate with the Chimichurri sauce on top and the steamed vegetables on the side.
Cooking Tip: These are lean cuts of beef. Don't overcook them or they will get tough.
Keep it Healthy: You can steam any seasonal vegetables such as broccoli, cauliflower or cook peas in a small amount of water.
Tip: You can always make extra Chimichurri and freeze it for a future meal.
You can also serve this with warm corn tortillas, steamed rice or boiled potatoes.
Tip: Nutrition information for Carne Asada in table.

Nutrition information for Chimichurri Sauce:
Calories 26
Fat 1.6g
Saturated Fat 0.2g
Trans Fatty Acid 0.0g
Poly Fat 0.2g
Mono Fat 1.1g
Cholesterol 0.0mg
Sodium 107mg
Carbohydrates 3g
Dietary Fiber 0.7g
Total Sugars 1g
Protein 0.6g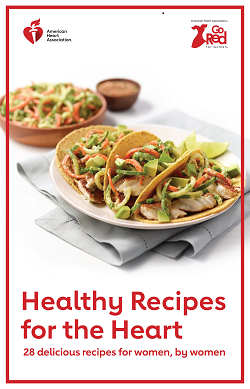 Healthy Recipes for the Heart
This digest-size recipe booklet contains 28 recipes, including Baked Flautas, Carne Asada with Chimichurri Sauce, Macaroni and Cheese with Spinach, Vegetable Migas, Jerk Tilapia Tacos with Zoodle Slaw, and Slow Cooker Thai Chicken Soup; blood pressure info and AHA recommended blood pressure levels; Blood Pressure Measurement Instruction infographic; an inspiring personal story shared by a GR Real Woman; full-color interior and photos; glossy cover; AHA dietary and lifestyle recommendations; Go Red Get Fit info; updated messaging and info about GRFW; and warning signs for heart attack and stroke.
Shop Heart