A bowl of chicken noodle soup always equals comfort. The vegetables add nutrition and an aromatic flavor. This soup can be prepared at a moment's notice and turns mealtime into a warm and satisfying experience.
Nutrition Facts
Homestyle Chicken Noodle Soup

Calories
282 Per Serving
Protein
30g Per Serving
Fiber
3g Per Serving
Nutrition Facts
×
Calories
282
Total Fat
5.0 g
Saturated Fat
1.0 g
Trans Fat
0.0 g
Polyunsaturated Fat
0.5 g
Monounsaturated Fat
2.0 g
Cholesterol
73 mg
Sodium
324 mg
Total Carbohydrate
27 g
Dietary Fiber
3 g
Sugars
4 g
Protein
30 g
Dietary Exchanges
1 1/2 starch, 1 vegetable, 3 lean meat
Ingredients
2 teaspoons olive oil
3 medium carrots (thinly sliced)
2 medium ribs of celery, leaves discarded, thinly sliced
1 small onion (diced)
4 cups fat-free, low-sodium chicken broth
1 1/2 pounds boneless, skinless chicken breasts, all visible fat discarded, cut into bite-size pieces.
3 cups water
3 tablespoons fresh Italian (flat-leaf) parsley, minced.
1/2 teaspoon dried thyme (crumbled)
1/4 teaspoon salt
1/4 teaspoon black pepper ((coarsely ground preferred))
6 ounces dried no-yolk noodles
Directions
Heat the oil in the pressure cooker on sauté. Cook the carrots, celery, and onion for 3 minutes, or until the carrots and celery are tender and the onion is soft, stirring frequently. Stir in the broth, chicken, water, parsley, thyme, salt, and pepper.
Secure the lid. Cook on high pressure for 12 minutes. Allow the pressure to release naturally for 10 minutes, then quickly release any remaining pressure. Remove the pressure cooker lid.
Set the pressure cooker to sauté. Heat until the soup comes to a simmer. Stir in the noodles. Cook for 8 to 10 minutes, or until the noodles are tender, stirring frequently.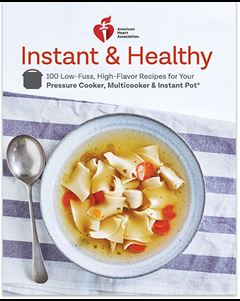 Instant & Healthy: 100 Low-Fuss, High-Flavor Recipes for Your Pressure Cooker, Multicooker & Instant Pot®
The American Heart Association offers the ultimate guide to using your Instant Pot®, pressure cooker, or multicooker to support a healthy diet.With full-color photographs as well as easy-to-follow recipes, you'll enjoy a range of delicious, hearty meals as well as snacks, desserts, and more. Photography ©2018 by Lauren Volo.
This recipe is reprinted with permission from American Heart Association Instant & Healthy. Copyright © 2018 by the American Heart Association. Photograph ©2018 by Lauren Volo. Published by Harmony Books, an imprint of Penguin Random House LLC. Available from booksellers everywhere.