Chicken shawarma is a garlicky Middle-Eastern dish. While it's often served in a pita, it's equally delicious served on a bed of romaine and topped with cucumbers, tomatoes, and feta. This easy-to-make dish will become a favorite go-to on those extra-busy nights.
Nutrition Facts
Chicken Shawarma

Calories
202 Per Serving
Protein
27g Per Serving
Fiber
3g Per Serving
Nutrition Facts
×
Calories
202
Total Fat
6.0 g
Saturated Fat
1.5 g
Trans Fat
0.0 g
Polyunsaturated Fat
1.0 g
Monounsaturated Fat
2.5 g
Cholesterol
74 mg
Sodium
356 mg
Total Carbohydrate
9 g
Dietary Fiber
3 g
Sugars
5 g
Protein
27 g
Dietary Exchanges
2 vegetable, 3 lean meat
Ingredients
2 teaspoons olive oil
1 small onion (chopped)
1 pound boneless, skinless chicken breasts, all visible fat discarded, cut into 1/2 x 2-inch strips
1/2 cup fat-free, low-sodium chicken broth
4 medium garlic cloves (minced)
1 teaspoon ground cumin
1 teaspoon paprika
1/2 teaspoon ground turmeric
1/2 teaspoon black pepper ((coarsely ground preferred))
1/4 teaspoon salt
1/2 medium unpeeled cucumber, sliced, and 1/2 medium unpeeled cucumber, chopped, divided use
1 medium tomato, sliced, and 1 medium tomato, chopped, divided use
2 cups torn romaine lettuce
2 tablespoons minced, fresh Italian (flat-leaf) parsley
2 tablespoons crumbled, low-fat feta cheese
Directions
Heat the oil in the pressure cooker on sauté. Cook the onion for 3 minutes, or until soft, stirring frequently. Add the chicken. Cook the chicken for 4 to 6 minutes, or until lightly browned, stirring frequently. Turn off the pressure cooker.
Stir in the broth, garlic, cumin, paprika, turmeric, pepper, and salt. Secure the lid. Cook on high pressure for 4 minutes. Quickly release the pressure.
Arrange as follows on a platter: the sliced cucumber, sliced tomato, and romaine. Using a slotted spoon, place the chicken on the romaine. Top with the remaining chopped cucumber and chopped tomato. Sprinkle with the parsley and feta.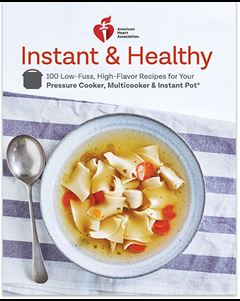 Instant & Healthy: 100 Low-Fuss, High-Flavor Recipes for Your Pressure Cooker, Multicooker & Instant Pot®
The American Heart Association offers the ultimate guide to using your Instant Pot®, pressure cooker, or multicooker to support a healthy diet.With full-color photographs as well as easy-to-follow recipes, you'll enjoy a range of delicious, hearty meals as well as snacks, desserts, and more. Photography ©2018 by Lauren Volo.
This recipe is reprinted with permission from American Heart Association Instant & Healthy. Copyright © 2018 by the American Heart Association. Photograph ©2018 by Lauren Volo. Published by Harmony Books, an imprint of Penguin Random House LLC. Available from booksellers everywhere.