Threading fruit onto skewers creates a fun-looking dessert for kids and adults alike. A balsamic-honey glaze adds sweet tartness.
Nutrition Facts
Grilled Fruit Kebabs with Balsamic Drizzle

Calories
199 Per Serving
Protein
2.4g Per Serving
Fiber
5.3g Per Serving
Nutrition Facts
×
Calories
199
Total Fat
4.1 g
Saturated Fat
0.3 g
Trans Fat
0.0 g
Polyunsaturated Fat
1.2 g
Monounsaturated Fat
2.2 g
Cholesterol
0.0 mg
Sodium
5.2 mg
Total Carbohydrate
43.1 g
Dietary Fiber
5.3 g
Sugars
29.9 g
Added Sugars
0 g
Protein
2.4 g
Dietary Exchanges
3 fruit, 1 fat
Ingredients
8 skewers
2 cups pineapple chunks
2 cups watermelon chunks
2 bananas (peeled, cut into large chunks)
1 pound hulled strawberries (stems discarded)
2 tablespoons balsamic vinegar
2 teaspoons honey
1 tablespoon canola oil
Directions
If using wooden skewers, make sure to soak them in water for at least 30 minutes.
Prepare a grill to medium-high heat. Prepare the fruit by chopping 2 cups pineapple and 2 cups watermelon. Peel and thickly slice bananas and remove stems from strawberries.
Thread fruit onto the 8 skewers, aiming for 2 pieces of each fruit per skewer: strawberry, pineapple, watermelon, banana, strawberry, pineapple, watermelon, and banana. Place onto a platter or a baking sheet.
In a small bowl, add vinegar, honey, and oil. Whisk together with a fork. Use a basting brush to glaze fruit with about half the balsamic mixture.
Grill the kebabs for 8 to 10 minutes, turning a few times and basting with the remaining balsamic mixture. Remove from the grill and serve.
Cooking Tip: Cutting the fruit into thick pieces to wedge onto the skewers helps ensure that they stay put during the grilling process.
Keep it Healthy: Consider a twist on the fruit salad by grilling large slices of fruit like watermelon, pineapple, peaches, pears, mangos and more. Chop and toss with a bit of olive oil and lime juice for a fruit salad.
Tip: It's easier to buy containers of already chopped fruit like watermelon and pineapple in a pinch; however, sometimes it's cheaper to buy an entire pineapple or a halved watermelon and chop it yourself.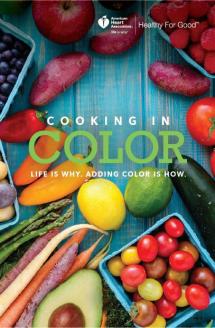 Cooking in Color
This digest-size recipe booklet includes 27 healthful recipes, all including fruits, vegetables, or both. Each recipe is accompanied by a vibrant photograph, and the recipes are organized by color. Also included is a fruit/veggie storage guide and a fruit/veggie equivalency guide.
Shop Heart
Copyright © 2018 American Heart Association, Healthy for Good™. Every purchase helps fund the work of the AHA/ASA.