With this complete meal, you can enjoy the taste of Thanksgiving year-round.
Nutrition Facts
Orange Glazed Turkey with Potatoes & Carrots

Calories
257 Per Serving
Protein
32g Per Serving
Fiber
3g Per Serving
Cost Per Serving
$1.79
Nutrition Facts
×
Calories
257
Total Fat
3.5 g
Saturated Fat
0.5 g
Trans Fat
0.0 g
Polyunsaturated Fat
0.5 g
Monounsaturated Fat
2.0 g
Cholesterol
76 mg
Sodium
389 mg
Total Carbohydrate
23 g
Dietary Fiber
3 g
Sugars
7 g
Protein
32 g
Dietary Exchanges
1 vegetable, 1 starch, 4 lean meat
Ingredients
Cooking spray
1 1 1/2- to 1 3/4-pound boneless, skinless turkey breast, all visible fat discarded
2 teaspoons dried mixed herbs (a combination of any/all, including rosemary, basil, parsley, tarragon, chives, thyme, and sage)
3/4 teaspoon salt
1/2 teaspoon pepper
1/2 teaspoon garlic powder
3 tablespoons sugar-free orange marmalade
1 pound potatoes (any type), cut into 2-inch cubes
4 medium carrots, peeled and cut into 2-inch pieces
1 tablespoon olive oil (extra virgin preferred)
Directions
Preheat the oven to 375˚F.

Lightly spray a 13 x 9 x 2-inch casserole dish with cooking spray. Place the turkey in the dish.
In a small bowl, stir together the herbs, salt, pepper, and garlic powder. Rub half the mixture all over the turkey.
Spread the marmalade over the turkey.
In a large bowl, stir together the potatoes, carrots, and oil with the remaining herb mixture. Place the vegetables around the turkey in the dish. Roast for 1 hour.
Remove from the oven. Let stand for 5 to 10 minutes to allow the juices to redistribute.
Tip: Cut off the feathery greenery on fresh carrots as soon as you can. As long as it remains attached, it continues to remove moisture and vitamins from the carrot.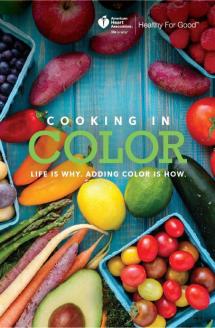 Cooking in Color
This digest-size recipe booklet includes 27 healthful recipes, all including fruits, vegetables, or both. Each recipe is accompanied by a vibrant photograph, and the recipes are organized by color. Also included is a fruit/veggie storage guide and a fruit/veggie equivalency guide.
Shop Heart
Copyright © 2018 American Heart Association, Healthy for Good™. Every purchase helps fund the work of the AHA/ASA.