Check out this great Simple Cooking with Heart recipe with flavors from Jamaica!
Nutrition Facts
Jerk Pork Sandwiches with Mango Sauce

Calories
282 Per Serving
Protein
24g Per Serving
Fiber
4g Per Serving
Cost Per Serving
$2.09
Nutrition Facts
×
Calories
282
Total Fat
7.5 g
Saturated Fat
2.5 g
Trans Fat
0.0 g
Polyunsaturated Fat
1.0 g
Monounsaturated Fat
3.0 g
Cholesterol
53 mg
Sodium
252 mg
Total Carbohydrate
32 g
Dietary Fiber
4 g
Sugars
13.5 g
Added Sugars
3 g
Protein
24 g
Ingredients
For the mango sauce:
1 large mango (diced)
1 tablespoon honey or agave nectar
2 Tbsp. red onion (finely chopped)
juice of 1/2 lime
1 Tbsp. chopped, fresh parsley

OR

1 tsp. dried parsley
For the pork:
1 small white onion (thinly sliced)
1 tsp. garlic powder
1 tsp. thyme
1/2 tsp. allspice
1/2 tsp. cinnamon
1/2 tsp. ground ginger
1/4 tsp. cloves
1 tsp. red pepper flakes (use 1/2 if you don't like spicy foods)
1.25 lb. pork loin or roast (all visible fat discarded)
2 cup fat-free, low-sodium beef stock
Directions
For the mango sauce:
Use whole-wheat sandwich buns, corn tortillas (made without any type of hydrogenated fat or tropical oils, such as palm or coconut oil), or whole wheat pitas to make sandwiches or tacos – add pork and top with mango sauce.
Dress to taste with sliced lettuce, cabbage, tomato, etc.
For the pork:
Combine garlic powder, thyme, allspice, cinnamon, ginger, cloves and red pepper flakes in a bowl and mix well. Rub spice mixture over pork.
Pour beef stock in slow cooker, gently add pork and white onions.
Cover and cook on low for 8-10 hours.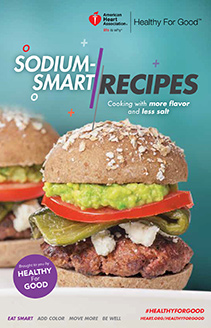 Sodium-Smart Recipes
This digest-sized booklet contains 28 recipes and photographs. It also contains information on how sodium affects overall health, a reference guide for sodium-free flavorings and provides American Heart Association's dietary recommendations.
Shop Heart