Super fast and super low in calories—only 35 per serving—this soup abounds in south-of-the-border flavors.


Nutrition Facts
Quick Mexican-Style Soup - Delicious Decisions

Calories
35 Per Serving
Protein
1g Per Serving
Fiber
1g Per Serving
Nutrition Facts
×
Calories
35
Total Fat
2.0 g
Saturated Fat
0.0 g
Trans Fat
0.0 g
Polyunsaturated Fat
0.0 g
Monounsaturated Fat
1.0 g
Cholesterol
0.0 mg
Sodium
132 mg
Total Carbohydrate
3 g
Dietary Fiber
1 g
Sugars
1 g
Protein
1 g
Dietary Exchanges
1 vegetable, 1/2 fat
Ingredients
1 3/4 cups fat-free, low-sodium chicken broth
1 large diced tomato
4 oz. chopped, canned mild green chiles
1/4 cup fresh, snipped cilantro
1 to 2 Tbsp. fresh lime juice
1 1/2 tsp. olive oil (extra virgin preferred)
3/4 tsp. ground cumin
Directions
In a medium saucepan, bring the broth to a boil over high heat. Stir in the tomato and green chiles. Return to a boil. Remove from the heat.
Stir in the remaining ingredients. Let stand, covered, for 5 minutes so the flavors blend.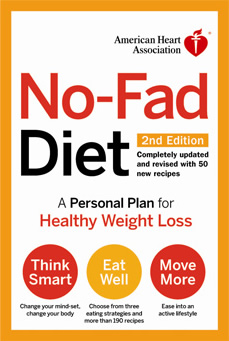 American Heart Association No-Fad Diet Cookbook
Learn how to shed unhealthy pounds and keep them off with the American Heart Association's comprehensive weight-loss book. Lose weight and enjoy every bite as you put our eating strategies and activity strategies — and more than 190 delectable recipes — to work for you.
Sample Recipes:
Pork Tenderloin with Cranberry Salsa
This recipe is reprinted with permission from American Heart Association No-Fad Diet: A Personal Plan for Healthy Weight Loss, Second Edition, Copyright © 2011 by the American Heart Association. Published by Clarkson Potter/Publishers, a division of Random House, Inc. Available from booksellers everywhere.