A bowl of hot quinoa topped with sweetened fat-free half-and-half and peaches makes a nutritious, protein-rich breakfast. The quinoa doesn't need tending to while it cooks, allowing you to get yourself and the kids ready for the day while the slow cooker does the work.
Nutrition Facts
Cinnamon Quinoa with Peaches - Delicious Decisions

Calories
254 Per Serving
Protein
10g Per Serving
Fiber
4g Per Serving
Nutrition Facts
×
Calories
254
Total Fat
7.0 g
Saturated Fat
0.5 g
Trans Fat
0.0 g
Polyunsaturated Fat
2.5 g
Monounsaturated Fat
3.5 g
Cholesterol
0 mg
Sodium
65 mg
Total Carbohydrate
42 g
Dietary Fiber
4 g
Sugars
17 g
Protein
10 g
Dietary Exchanges
2 starch, 1 fruit, 1/2 fat, 1 lean meat
Ingredients
Cooking spray
2 1/2 cups water
1 cup uncooked quinoa (rinsed, drained)
1/2 teaspoon ground cinnamon
1 1/2 cups fat-free half-and-half
1/4 cup sugar
1 1/2 teaspoon vanilla extract
2 cups frozen peach slices thawed (sliced or diced)
1/4 cup PLUS 2 Tbsp chopped pecans (dry roasted, coarsely chopped)
2 Tbsp chopped pecans (dry-roasted, coarsely chopped)
Directions
In a 3- to 4 1/2-quart round or oval slow cooker, lightly spray the slow cooker with cooking spray. Pour in the water. Stir in the quinoa and cinnamon. Cook, covered, on low for 2 hours or on high for 1 hour, or until the water is absorbed and the quinoa is tender.
Just before the quinoa is ready, in a small bowl, stir together the half-and-half, sugar, and vanilla extract until the sugar has dissolved.
Spoon the quinoa into bowls. Top with the peaches. Pour in the half-and half mixture. Sprinkle with the pecans.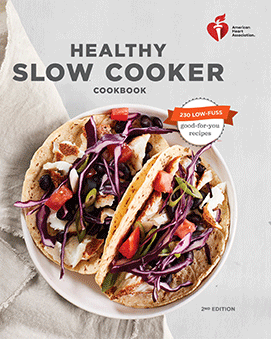 AHA Healthy Slow Cooker Cookbook, 2nd Edition
The versatile slow cooker is American's favorite kitchen appliance -- AND -- it can help support a healthy diet! The American Heart Association Healthy Slow Cooker Cookbook, 2nd Edition is back with brand new recipes that utilize your slow cooker and nourish you. From appetizers to desserts, the 230 recipes in this cookbook will surprise you with their variety and depth of flavor. Photography ©2018 by Lauren Volo.
Sample Recipes:
Acorn Squash Wedges with Walnuts
Purchase: