Summer Veggie Pizza with Cauliflower Crust
Cauliflower will become your new favorite vegetable as it is used to create a pizza crust brimming with more fiber and nutrients than dough. With this creation or any of the other ideas in the tips, pizza is turned from an indulgence into a healthy option.
Watch our how to make cauliflower pizza crust video.
Nutrition Facts
How to Make Cauliflower Pizza Crust (Recipe and Video)

Calories
190 Per Serving
Protein
15.6g Per Serving
Fiber
7.1g Per Serving
Nutrition Facts
×
Calories
190
Total Fat
4.9 g
Saturated Fat
0.4 g
Trans Fat
0.0 g
Polyunsaturated Fat
0.8 g
Monounsaturated Fat
1.5 g
Cholesterol
7.0 mg
Sodium
351 mg
Total Carbohydrate
24.3 g
Dietary Fiber
7.1 g
Sugars
9.8 g
Protein
15.6 g
Dietary Exchanges
4 vegetable, 1 lean meat
Ingredients
For the cauliflower crust:
1 head cauliflower (roughly chopped)
4 egg whites
1/4 cup shredded, fat-free mozzarella cheese
1/4 cup reduced-fat Parmesan cheese
1/4 teaspoon garlic powder
1/4 teaspoon ground black pepper
For the sauce and toppings:
1/2 cup canned, no-salt-added tomato puree
1 teaspoon dried basil
1 teaspoon dried oregano
1/2 teaspoon garlic powder
2 cups chopped mushrooms
1 cup chopped zucchini
1 cup chopped red or green bell pepper
1/2 cup finely chopped red onion
2 teaspoons canola oil
1/4 cup basil leaves
1/4 cup shredded, fat-free mozzarella cheese
Directions
Directions for the cauliflower pizza crust:
Preheat the oven to 450°F. Line 2 baking sheets with parchment paper and coat them with cooking spray.
Trim and discard the leaves from the cauliflower. Roughly chop the cauliflower florets. Add to the bowl of a food processor in batches, pulsing until the mixture resembles couscous. (The key to getting the correct consistency is to not overload the food processor.) Measure out 4 cups of the cauliflower and transfer to a medium bowl. (See tip for ways to use the extra cauliflower.) Into the bowl, add egg whites, mozzarella cheese, Parmesan, garlic powder, and black pepper. Stir to combine.
Divide the cauliflower mixture over the 2 prepared baking sheets—aim for each "pizza" to be a 7- to 8-inch oval or circle, using a knife or a spatula to spread the mixture into this size.
Bake cauliflower crusts in the oven until edges are totally golden, around 30 minutes. Remove from oven.
For the sauce and toppings:
Reduce the oven to 425°F.
Make the tomato sauce: In a small bowl, combine tomato purée and spices. Reserve.
Prepare all the vegetables. Warm oil in a small nonstick pan over medium-high heat. Add vegetables and, stirring constantly, cook until softened, about 5 to 7 minutes.
When the cauliflower crusts are finished, divide tomato sauce between each pizza, swirling into the middle of each pizza. Top with basil leaves, the cooked vegetables, and cheese. Bake in oven until cheese melts, about 5 to 7 minutes.
Remove pizzas from the oven. Use a large spatula to carefully remove pizza from parchment and transfer to each plate. Cut each one into quarters and serve.
Cooking Tip: For a whole-wheat pizza, use 1 (20-ounce) whole wheat pizza dough ball. Preheat oven to 500°F. Stretch the dough to fit a greased large baking sheet and cooked until golden, about 15 minutes. Cover with toppings, again cooking in the oven briefly until cheese melts.
Keep it Healthy: Another way to get a healthy pizza dinner on the table even quicker than with the cauliflower crust is to use whole-wheat pita bread. Place pitas onto a foiled and greased baking sheet, topping with the tomato sauce—use more tomato sauce than with the cauliflower pizza, around ¾ cup to 1 cup—and pile high with cooked vegetables and cheese. Bake in a 425°F oven until pita is crispy, about 15 to 20 minutes.
Tip: Use any remaining cauliflower purée to toss in with a grain for a future night's dinner or to sprinkle into salads.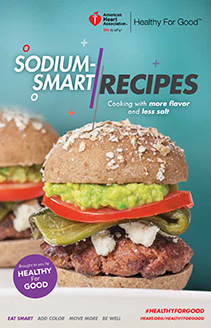 Sodium-Smart Recipes
This digest-sized booklet contains 28 recipes and photographs. It also contains information on how sodium affects overall health, a reference guide for sodium-free flavorings and provides American Heart Association's dietary recommendations.
Shop Heart